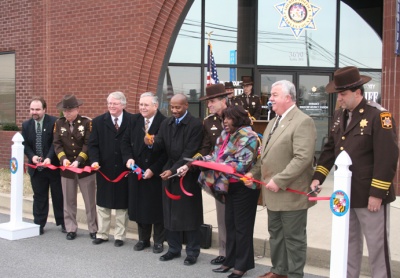 Pictured (left to right) are Charles County Administrator Paul W. Comfort, Major Joseph Montminy, Commissioner Gary V. Hodge, Commissioner President Wayne Cooper, Commissioner Reuben B. Collins, II, Sheriff Rex W. Coffey, Commissioner Vice President Edith J. Patterson, Commissioner Samuel N. Graves, Jr., and Major Buddy Gibson during the ribbon cutting in Waldorf on January 13. (Submitted photo)
WALDORF, Md. (Jan. 15, 2009)—The Charles County Board of Commissioners, along with Sheriff Rex Coffey and his senior officers, all gathered Tuesday to celebrate the opening of the new District III Sheriff's Station.
The new station, located at 3670 Leonardtown Road in Waldorf, houses officers from police districts 3 and 4, which serve the Waldorf community.
County officials say the building will save county taxpayers more than $9 million by allowing the cancellation of a planned expansion of its La Plata headquarters, and delay construction of a second Waldorf station.
Commissioner President Wayne Cooper said the new location shows a commitment by the Commissioners and the Sheriff to bring convenient services to the public, and ensure the safety of all Charles County residents.
Cooper said there are plans to use some of the approximately 35,000 square feet to house satellite operations such as the Treasurer's Office, Building Permits and Water/Sewer Utilities services.
"People will be able pay their taxes and other county related bills at this location without having to drive all the way to La Plata. There are also two meeting rooms that can be used by the Commissioners or the Sheriff's Office for community meetings and gatherings," added Cooper.
Sheriff Rex Coffey said the new station is larger than their previous location at 2160 Old Washington.
"It's safer, more environmentally friendly, and it allows space for the training of 150 people at a time. It also allows us to streamline many operations, and further enhance the efficiency of the Sheriff's office by allowing room for growth and expansion, as the need arises," noted Coffey.