LA PLATA, Md. (Dec. 24, 2009) - The Charles County Sheriff's Office recently released the following incident and arrest reports.
FIRST-DEGREE ASSAULT/ROBBERY: On December 23 between 1:30 a.m. - 2 a.m., an 18-year-old male and three friends had just withdrawn money at a drive-thru ATM at 3070 Leonardtown Road in Waldorf. Afterwards, the victim parked his car to the side of the bank and exited his vehicle momentarily. At that point, he was approached by four men in a silver car who asked for help fixing a flat tire. Two of the men displayed handguns and demanded the victim's wallet. The victim refused and one suspect fired a shot, striking the victim in his leg. The victim's friends drove him to a nearby hospital where they called the police. The victim was treated for a non life-threatening injury. Officers canvassed the area and processed the scene for evidence. The Major Crimes Unit is investigating.
CARJACKING: On December 23 at 2:40 a.m., officers received a call for a carjacking in the parking lot of 2975 Crain Highway in Waldorf. Investigation revealed the victim was leaving Denny's when he was approached by two men who displayed a handgun and demanded his car keys. The victim complied and the suspects fled in his vehicle - a 2001, Mitsubishi Mirage. The victim, who was not injured, called police. Detectives are looking into the possibility that the carjacking and first-degree assault from Leonardtown Road are related. The Major Crimes Unit is investigating.
BANK ROBBERY: On December Dec 22 at 12:15 p.m., officers responded to Old Line National Bank at 12080 Old Line Center in Waldorf for the report of a robbery. Investigation revealed the suspect entered the bank, approached a teller, implied he had a weapon and demanded money. The teller complied and the suspect fled. The suspect is described as a black male in his forties, 5'8' with a slim build. He wore a dark colored hat with a white logo and a black jacket. Detectives are looking into the possibility the same suspect is responsible for robberies in other counties as well. Detective Tona is investigating.
CALL FOR SUSPICIOUS VEHICLE LEADS TO DRUG ARREST: On December 22 at 9:36 a.m., Charles County Sheriff's officers responded to the area of Charles Street and Tip Hill Road in La Plata for the report of a suspicious vehicle. Contact was made with the driver, William Kenneth Briley, 34, of Temple Hills, who appeared to be under the influence of an unknown substance. Briley was arrested after failing field sobriety tests. During the investigation, officers found a quantity of marijuana, PCP, and, Hydrocodone inside Briley's car. He was charged with possession with intent to distribute drugs. Officer W. Mayhew is investigating.
ILLEGAL HUNTING COMPLAINT LEADS TO DRUG ARREST: On December 15 at 11:36 p.m., Charles County Sheriff's officers responded to the 12500 block of Old Mill Road in reference to a citizen's complaint of gunshots. Upon arrival, officers observed a dead deer with a fresh gun shot wound. Recognizing someone was probably illegally spotlighting deer, the officer set up surveillance. A short time later, the officer observed the suspects loading the deer on top of a minivan. The officer initiated a traffic stop and observed another dead deer inside the van. In addition, the officer found marijuana and drug paraphernalia in the vehicle. Officers canvassed the area and located a 12 gauge shotgun which had been thrown out of the car prior to the traffic stop. Samuel Yoder Hostetler, 36, of Charlotte Hall, and Clayton Edward Bowling, 28, of Waldorf, were arrested and charged with illegal hunting and possession of drugs. Officer M. DePaulo made the arrest.
CAR THEFTS DURING COLD SEASON: Vehicle thefts in Charles County are down. But, this is the time of year when car thieves are on the prowl, looking for vehicles that are left unattended and warming up. And, it's exactly the reason why the Charles County Sheriff's Office is reminding car owners who leave their vehicles unattended and running (with the keys in the ignition) that doing so is a violation of the law and carries a $70 fine. Overall, the Sheriff's Office has made significant progress in reducing motor vehicle thefts but during the winter months, officers typically encounter more incidents in which cars are stolen simply because the keys were left in the ignition as it was warming. "We understand getting into a cold car is miserable, but it's important to remember by eliminating the opportunity, we can prevent a lot of thefts," said Sheriff Rex W. Coffey.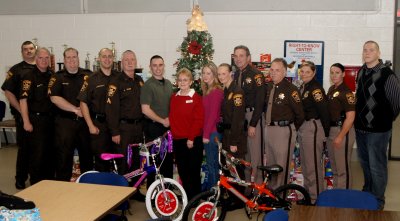 HOLIDAY OUTREACH: While many families are hanging stockings and trimming trees this Christmas season, countless others are struggling to make ends meet. Knowing financial hardships strike especially painfully at Christmastime, the Charles County Sheriff's Office actively supports the Children's Aid Society's Christmas Connection effort, which provides donated food, toys, clothes and other items to the community's neediest families. Officers, including Sheriff Rex Coffey, helped unload truckloads of items into the Maryland Army National Guard armory in La Plata. Officers were also stationed at the armory during shopping days to help load the cars of citizens who shopped the Connection. On Dec. 16, members of the Corrections Division, which operates the Charles County Detention Center, presented more than $2,400 worth of bicycles, games, stuffed animals, dolls and other toys for the Connection to Pat Santee of the Children's Aid Society. Pictured from left to right are Correctional Officer Anthony Mitchell, Cpl. David Smith, Sgt. Brian Gardiner, Correctional Officer Jason Johnson, Cpl. John Greer, Cpl. Ryan Ross, Santee, Correctional Officer Crystal Parum, Correctional Officer Amber McAlwee, Sheriff Coffey, Major Joe Montminy, Deputy Director Susan Rice, Correctional Officer Susan Travers and Correctional Officer Andrew Hunt.