PRINCE FREDERICK, Md. (Dec. 14, 2009) - The Calvert County Sheriff's Office today released the following incident and arrest reports.
DOP: On December 7 in the early morning hours, unknown suspect(s) caused approximately $2000 in damage to a vehicle parked outside a home on E Street in Chesapeake Beach. The car had numerous dents and deep scratch marks. DFC Kevin Hall is investigating.
THEFT: Dep. Vaughn Evans is investigating a theft from 3 vehicles parked at two homes in the Quince View subdivision on Meadowview Circle in Owings. It occurred overnight between December 9 and 10. One victim reported that two vehicles, which had been left unlocked, were entered and about $25 in cash and coins was stolen. The second victim advised that more than $500 in property was stolen from her vehicle, to include a Microsoft XBOX 360 Elite bundle package that included two games, Lego Batman and PURE, and an electronic photo key chain. She is unsure if her vehicle had been unlocked.
BURGLARY: Unknown suspect(s) broke into a home on Hilltop Road in Lusby on December 10 between 10:30 a.m. and 2:30 p.m. The victim reported that a 37 inch 120 cycle Samsung LCD television valued at $1300, a 32 inch black Samsung LCD television worth $450 and a Sony Handycam valued at $600 were stolen. Anyone with information is asked to contact DFC Thomas Rickard at 410-535-2800.
THEFT: DFC Kevin Hall is investigating a theft from a vehicle that occurred overnight between December 9 and 10 on Harrison Blvd. in Chesapeake Beach. The unknown suspect(s) caused $500 in damage and stole the vehicle registration card and owner's manual.
CDS VIOLATION: DFC Moises Velasquez conducted a traffic stop on a vehicle at Catalina Drive and Algonquin Trail in Lusby on December 13 at 5:14 a.m. He subsequently arrested the passenger, later identified as Clarnzett Weems, 28 of Lusby, and charged him with possession of marijuana and possession of cocaine as well as possession with intent to use drug paraphernalia, a crack pipe.
DONATION FROM PUBLIC: On Thursday, December 10 the Nam Knights of America MC, Old Line Chapter, presented a check in the amount of $500 to Sheriff Mike Evans of the Calvert County Sheriff's Office. This is the third consecutive year that the Nam Knights have graciously given a donation to the Sheriff's Office. The Nam Knights' mission is to honor military, law enforcement and public safety individuals who have given the ultimate sacrifice in the protection of our country and community and provide support to their survivors and families. The funds donated by them will be used for community events of the Sheriff's Offices' Community Action Team (CAT). The CAT team endeavors to advise homeowners and businesses how to protect themselves to avoid being victims of crime.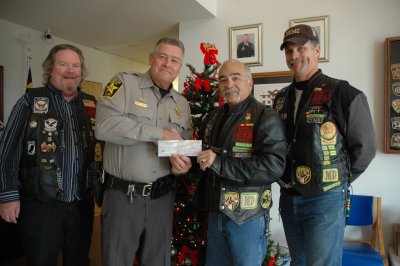 Pictured, left to right, Nam Knight Secretary Steve "Spatz" Logan, Sheriff Mike Evans, President of the Old Line Chapter-NK Ray "Bomber" Nieves and Chaplain NK Bill "Preacher" Collette.
SUICIDAL PERSON WITH GUN: On December 11 at approximately 6:00 a.m. officers of the Calvert County Sheriff's Office responded to a home on Old Jones Road in Dunkirk for a suicidal person with a gun. It was learned through the Calvert Control Center from the caller, who is also the spouse, that the suicidal subject pointed the weapon at the caller. The subject also fired this firearm inside of the residence; however, no one was injured. The Calvert County Sheriff's Office Special Operation Team was activated and deployed to assist the Patrol Bureau. Negotiations were initiated by the Sheriff's Office and the subject exited the residence with a firearm on one occasion and went back into the residence. Through negotiations, the subject, later identified as Kurt Donald Belk, 40, exited the residence and was taken into custody by the Sheriff's Office Special Operations Team. Belk will be charged with first and second degree assault. The Calvert Investigative Team comprised of the Calvert County Sheriff's Office, Maryland State Police and the Calvert County State's Attorney's Office is currently investigating this case.