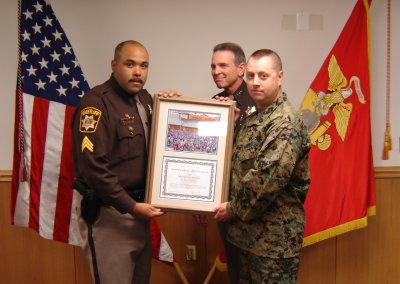 Pictured with Charles County Sheriff Rex Coffey (center) and Sgt. Proctor (left) is Gunnery Sergeant Roderuck Shriver. (Submitted photo)
LA PLATA, Md. (Dec. 8, 2009)—The Charles County Sheriff's Office raised $22,482 for Special Olympics Maryland as part of this year's Law Enforcement Torch Run, a rousing success that would be impossible if not for the generosity of the many members of the community who donate time, money and resources to the cause.
Recently, Sheriff Rex Coffey recognized two of the event's major contributors — the United States Marine Corps and Texas Roadhouse in La Plata — for their commitment to the Torch Run. He and Sgt. Gus Proctor, a community Policing Unit supervisor who organizes the Sheriff's Offices Special Olympics fundraisers, presented plaques to Gunnery Sergeant Roderuck Shriver and Texas Roadhouse owner Steve Urso.
"I am grateful for the opportunity to recognize the Marines and Texas Roadhouse for their participation in the Torch Run," said Sheriff Coffey. "The number of marines who volunteer their time to run for Special Olympics proves they care not only about their country but about our local community as well. Likewise, Steve proves his restaurant is not just in the business of making money — they are committed to giving back and helping our community, too."
One-hundred-eight-two marines from the Chemical Biological Incident Response Force (CBIRF) Unit stationed at the Naval Surface Warfare Center (NSWC) in Indian Head participated in the Torch Run this year. Urso's restaurant not only served as the starting and ending points of the run, but its staff also volunteered to serve a free barbeque lunch to all the participants. The restaurant's mascot, Andy Armadillo, made an appearance as well.
"I also want to personally thank the schools for their very generous contribution," said Sgt. Proctor.
In November, Sgt. Proctor attended the International Law Enforcement Torch Run Conference held at MGM Grand Hotel at Foxwoods in Connecticut. There he learned that for the second consecutive year, Special Olympics Maryland's fundraising efforts surpassed those every other Special Olympics organization in 49 countries. Special Olympics Maryland raised $3.6 million in 2009.
The Sheriff's Office thanked all the supporters who contributed to the success of its 2009 fundraisers:
Olive Garden (Waldorf)
Thornton's Funeral Home
Wal-Mart (La Plata)
Wal-Mart (Waldorf)
American Legion Randolph Furey Post #170
Carruth & Son INC.
Drs. DiLorenzo and Hrechka, P.A.
B & B Construction
T & J Barbeque
Raymond Funeral Service P.A.
Charles County States Attorneys Office employees
Charles County Board of Education Building employees
Toyota of Waldorf
St. Charles Towne Center Mall
Red Lobster (Waldorf)
Martin's Service Center
Potter Heating & Electric Inc.
Truck'N America
Clinton Fence
Pancakes Plus
Mr-n-Ms Haircutters Inc.
Cutting Edge Hair and Nail Salon
Motor Vehicle Administration (Waldorf Branch)
Studio M Salon
Dan's Store
Hair Cuttery (Waldorf Market Place)
Beltway Paving Co. Inc.
Classic Image Salon & Day Spa
Galleria Salon & Spa
Charles County Department of Community Services
United Propane
Charles County Department of Health
Gragan & Sons Glass Co., Inc.
BJ's Wholesale Club #72
Charles County Government employees
Thomas Stone High School JROTC
Westlake High School JROTC
La Plata High School JROTC
Milton Somers Middle School Builders Club
CBS Countertops Inc.
Chick-fil-a of Waldorf
Jellybeans Child Care Center
Charles County Minority Officers Association Inc
Spring Dell Center Inc.
United States Marines (CBIRF Unit)
Texas Roadhouse
SCHOOLS:
Thomas Stone High School
Maurice J. McDonough High School
Henry E. Lackey High School
North Point High School
La Plata High School
Theodore G. Davis Middle School
Matthew Henson Middle School
John Hanson Middle School
Mattawoman Middle School
General Smallwood Middle School
Milton M. Somers Middle School
Piccowaxen Middle School
Dr. Samuel A. Mudd Elementary School
Indian Head Elementary School
Arthur Middleton Elementary School
J.C. Parks Elementary School
J.P. Ryon Elementary School
Dr. Gustavus Brown Elementary School
Gale-Bailey Elementary School
Mary H. Matula Elementary School
Berry Elementary School
Daniel of St. Thomas Jenifer Elementary School
Malcom Elementary School
C. Paul Barnhart Elementary School
William B. Wade Elementary School
Mary Burgess Neal Elementary School
Mt. Hope/Nanjemoy Elementary School
T.C. Martin Elementary School
F.B. Gwynn Center
The Sheriff's Office also thanked the following businesses who provided services for the Torch Run:
Safeway (King Street)
Safeway (Waldorf Market Place)
Safeway (Marshall Hall Road)
Safeway (La Plata)
Giant (Rosewick Road)
Giant (St. Charles Towne Plaza)
United Propane
The Greater Waldorf Jaycees
Food Lion (St. Patrick's Dr.)
Shoppers Food Warehouse
BJ's Wholesale Club #72
Sam's Club
Utz.
Texas Roadhouse
La Plata Food Lion
Old Country Buffett
Wonder Bread
Bernie's Frame Shop
Charles County Rescue Squad
Charles County Emergency Services
For more information about the Charles County Sheriff's Office and its community outreach efforts, visit
http://www.ccso.us/
.