Decades of hard work and hickory smoke begin to pay off in a big way for a family whose business began in a cramped trailer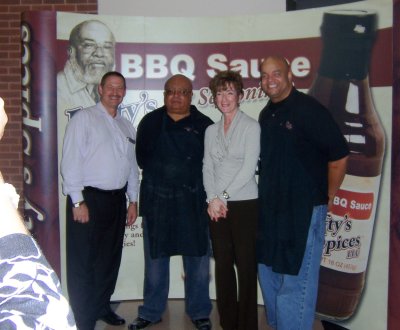 Left to right: Giant Regional Market Manager Gary Budd, Lefty's Barbeque founder Walter Nash Sr., Giant Executive Vice President and General Manager Robin Michel, and Lefty's Spices CEO Walter Nash Jr. at Giant Food's corporate headquarters in Landover, Maryland. (Submitted photo)
CLINTON, Md. (November 30, 2009) - When barbecue restaurant proprietor Walter "Lefty" Nash Sr., left Washington, Ga., for the Washington, D.C., area nearly 50 years ago, barbecue was the furthest thing from his mind. The way Nash tells it, he was dreaming of onion rings and frozen custard-the kind he'd had at one of the capital's Hot Shoppes drive-in restaurants while visiting relatives.
It makes sense that a man who now makes his living feeding people would associate a city with the food he ate there, just as many Southern Marylanders now associate Nash with the down-home delicacies he serves at his Waldorf restaurant, Lefty's Barbeque. Now that Giant Food is selling Lefty's Spices barbecue flavorings emblazoned with his picture, people all over the Mid-Atlantic may soon think of Nash whenever they think of barbecue.
Three Lefty's Spices products-the Fish n' Chicken Mix and two flavors of barbecue sauce-are now debuting in 160 stores in Maryland, Washington, Virginia and Delaware. If sales meet expectations, Giant will expand the products' availability to all 181 of its stores in those states. The same products just went on the shelves in 100 Pennsylvania stores as well.
Lefty's Spices attracted Giant's attention in June at a trade show held in Baltimore by food distributor DPI Specialty Foods. The long line of people waiting to get samples of pulled pork and barbecue sauce made the Lefty's Spices booth very conspicuous. Similarly long lines had formed at the 2008 event, where the company won Best in Show its first time out.
Giant is not the only major retailer carrying Lefty's Spices products. Half gallons of Lefty's Spices barbecue sauce began appearing in several Costco stores about a month ago and have been selling well. Costco has already placed a second order. In addition, Lefty's Spices CEO Walter Nash Jr. expects the company's seasonings to be available in Food Lion and Shoppers' Food Warehouse supermarkets by year's end. Like Giant, St. Mary's County-based McKay's Food & Drug is now stocking the Fish n' Chicken Mix and barbecue sauces in its five stores.
Nash Sr. has been in the barbecue business since 1989, when he and his wife Margaret began selling barbecue out of a small trailer in a liquor store parking lot. Their success in that setting led them to open a sit-down restaurant, which has been even more successful. Today the business also includes a thriving catering division managed by Nash's daughter, LaTanya Holland. Lefty's Spices grew out of frequent requests for recipes, sauces and seasonings. Its product line has been well received by restaurant patrons.
That doesn't surprise Nash Jr., who says he expects his family's high standards to shine through in its retail products as much as they do in its restaurant fare. "You have to give people a quality product," he adds. "Otherwise, at the end of the day your customers will head out the door."