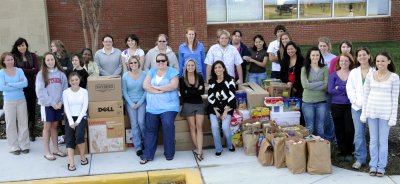 Event organizers, center from left, Robin Lamphier, Juliet Hoey, Allison Denikos and Connie Churchward were joined by Leonardtown Campus students who helped load the donations onto the Southern Maryland Food Bank truck prior to Thanksgiving. (Submitted photo)
LEONARDTOWN, Md. (Nov. 27, 2009)—Sociology and psychology students in Professor Michael Maloney's classes on the College of Southern Maryland's Leonardtown Campus donated 2,159 pounds of food for the Southern Maryland Food Bank--enough to feed 122 families this month. Organized by Connie Churchward of California and Robin Lamphier of Hollywood, the effort not only helped the community, but it also created a venue for students to get involved in a good cause.
"It has shown me just how giving each and every student is," said Lampier, "and that when we all pull together, we can accomplish great things."
"Our goal was to feed as many people in the county as possible," said Churchward. "No one should have to go hungry."
The food will go to a central location to be given to those in need from Calvert, Charles and St. Mary's counties.