PRINCE FREDERICK, Md. (Nov. 27, 2009) - The Calvert County Sheriff's Office recently released the following incident and arrest reports.
DOP: It appears that a BB gun was used to shoot out the drivers' side window of a vehicle parked outside a home on 17th Street in Chesapeake Beach sometime between November 16 and 17. The damage is estimated at $200. Dep. Jeffrey Hardesty is continuing the investigation.
THEFT: A victim advised Dep. James Norton that unknown suspect(s) stole $300 in cash and other items from her vehicle between 7:00 p.m. on November 17 and 2:00 a.m. on the 18th. The vehicle had been parked outside Catamaran's Restaurant in Solomons. The victim stated that the vehicle had been left unlocked with the windows down.
DOP: Unknown suspect(s) slashed a tire causing $100 in damage on November 20 between 4:15 p.m. and 7:00 p.m. on Rodeo Road. Dep. Norton is investigating.
BURGLARY: A home on Parran Road in St. Leonard was burglarized on November 20 between 6:45 a.m. and 3:00 p.m. Nothing appears to have been taken. Anyone with information is asked to contact Lt. Steve Jones at 410-535-2800, ext. 2462.
SEARCH WARRANTS EXECUTED IN CHESAPEAKE BEACH: On November 13 at 7:55 a.m., members of the Calvert County Sheriff's Office Drug Enforcement Unit with support from the Calvert County Sheriff's Office Special Operations Team and members of the Charles County Sheriff's Office and the St. Mary's County Sheriff's Office, executed five search and seizure warrants within the Courtyards of Fishing Creek located on Gordon Stinnett Avenue in Chesapeake Beach. These search and seizure warrants were the product of an investigation over the last two months which identified a drug organization operating within the development. No arrests have been made to date, however, this investigation is ongoing. In a statement, Chesapeake Beach Mayor Bruce Wahl said, "I am grateful for the investigation and enforcement action taken by the Calvert County Sheriff's Department and other law enforcement agencies on November 13. The goal of my administration is to make Chesapeake Beach a safe environment for all citizens, and to that end, I fully support the Sheriff's Department's efforts to arrest and convict those individuals who choose to engage in the sale of illegal drugs in the Town of Chesapeake Beach."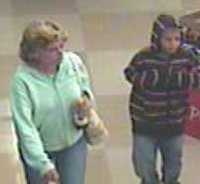 FRAUDULENT USE OF STOLEN CREDIT CARDS: On September 11, 2009 unknown suspect(s) used a stolen credit card at the Wal-Mart store in Prince Frederick. These pictures are of the suspect(s) trying to use the credit cards at the Food Lion in Charlotte Hall, St. Mary's County, Maryland. Anyone who can identify the suspects or has additional information is asked to contact Det. Cari Ray of C.I.T. at 410-535-1600 x2595 or hallcs(at)co.cal.md.us.
PET AMNESTY: For one week the Calvert County Sheriff's Office Animal Control Unit will be offering county animal licenses to county residents for a fraction of the regular price. By having their pet registered, owners increase the probability that the animal will be returned to them if lost, rather than taken to the Tri-County Animal Shelter.
The amnesty will take place November 30th through December 6th at the following locations, the Calvert County Sheriff's Office from Monday, November 30th through Friday, December 4th from 9:00 a.m. to 3:00 p.m. and Saturday, December 5th and Sunday, December 6th from 11:00 a.m. to 2:00 p.m. both days, the North Beach Volunteer Fire Department on Monday, November 30th from 5:30 p.m. to 7:30 p.m., the Prince Frederick Volunteer Fire Department on Wednesday, December 2nd from 5:30 p.m. to 7:30 p.m., and at the Solomons Volunteer Fire Department on Thursday, December 3rd from 5:30 p.m. to 7:30 p.m. Spayed or neutered pets licenses are $3, non-spayed and non-neutered pets cost $10. Residents need to bring cash or check and a copy of their pet's current rabies certification. These reduced rates, which are less than half the normal price, are only applicable at the listed locations and only during amnesty week.
Copies of the county Animal Control Ordinance will be available for residents and is also viewable on the county website by going to www.co.cal.md.us and following the link to the Sheriff's Office.
THANKSGIVING TRAFFIC ENFORCEMENT: As part of Checkpoint Strikeforce, Calvert County Sheriff deputies will be out in full force conducting sobriety checkpoints during the Thanksgiving holiday and the following weekend at various locations throughout the county. The Checkpoint Strikeforce campaign is designed to get impaired drivers off the roads using patrols and checkpoints in areas where drunk driving is most likely to occur and to educate the public about the dangers of drunk driving. The campaign was initiated by the Maryland Chiefs of Police Association and the Maryland Department of Transportation.