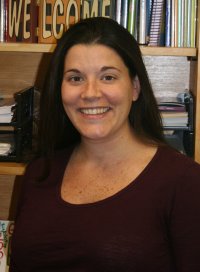 LA PLATA, Md. (Nov. 24, 2009)—Stephanie Goldstein, a school counselor at Mattawoman Middle School, was recently selected as the Maryland Middle School Counselor of the Year by the Maryland School Counselor Association (MSCA). The award recognizes school counselors for outstanding achievement and service to students and for providing leadership in the development of existing and future counseling services.
Goldstein was selected for her participation in workshops for school system administrators and Board of Education members, for serving as a mentor for new school counselors, for helping initiate a comprehensive career guidance program and conflict-resolution activities and for new processes to entice students to initiate conferences.
"My nomination and selection for this award came as a great surprise. It is an honor to receive such as prestigious award. I am grateful that Charles County Public Schools has provided me with the resources and tools needed to excel in my endeavors and has given me the opportunity to grow as a professional school counselor," Goldstein said.
This is Goldstein's first year at Mattawoman. She was hired at Piccowaxen Middle School in 2006, where she was recognized as the school's exemplary employee before the Board of Education this past March. She will be recognized for her contributions to school counseling, and as the state middle school counselor of the year, during MSCA's fall conference Nov. 20.
Goldstein received a bachelor's of science degree in psychology from Mount St. Mary's College in 2002 and completed her master's degree in school counseling in 2005 at Wilmington College in Delaware. She was nominated for the award by Jeanette Kaufman, supervising school counselor for Charles County Public Schools.
"We have many wonderful counselors who deserve recognition. In this particular instance, Stephanie stood out for us because she has been a strong advocate for school counseling through her presentations at the summer Administrative Leadership Workshop, board presentations and other projects that educated the public beyond her own school community," Kaufman said.
Nominees must have at least three years of school counseling experience, a master's degree in guidance and counseling, and must be certified as a school counselor by the State of Maryland. Nominees must also have been responsible for providing leadership in counseling services and outstanding service to the school community.
For more information on the MSCA, visit their Web site at www.mdschoolcounselors.com.
Source: Charles County Public School System