Concert is 3 p.m. Sunday Nov. 15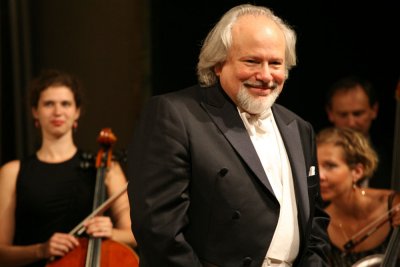 St. Mary's College Orchestra Music director Jeffrey Silberschlag.
ST. MARY'S CITY, Md. (Nov. 14, 2009) — The St. Mary's College Orchestra looks to the heavens and the American prairies for its music choices for a concert at 3 p.m. Sunday, November 15, 2009, in Montgomery Hall's room 25 at St. Mary's College of Maryland (SMCM). Conducted by music director Jeffrey Silberschlag, the free public concert will include British composer Gustav Holst's The Planets, an orchestral suite inspired by Holst's fascination with astrology; and Aaron Copland's Billy the Kid, which incorporates folk songs as it follows the life of the famous outlaw.
Silberschlag also is music director and conductor of the popular summer River Concert Series and Alba (Italy) Music Festival. He is an internationally renowned trumpet soloist and conductor, having recorded with the London and Seattle symphonies; London, Warsaw, and Royal Liverpool philharmonics; and the Czech Radio Orchestra. Silberschlag has served on the faculty at St. Mary's College of Maryland since 1988.