By DAVID M. JOHNSON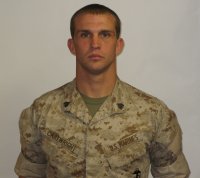 WASHINGTON (Nov. 12, 2009) - Sgt. Charles I. Cartwright, 26, a member of the Marine Corps from Union Bridge died Saturday, caught in hostile fire in the Farah Province of western Afghanistan, according to the Marine Corps Forces Special Office of Command.
Cartwright graduated in 2001 from Walkersville High School in Frederick County where he helped the Lions bring home the county wrestling championship his senior year, according to The Frederick News Post archives.
Months after graduation, and a day before the Sept. 11 terrorist attacks, Cartwright enlisted in the Marine Corps. He was married in December 2008, 11 months to the day of his passing.
Cartwright's parents and wife declined to comment for this story. Several other friends contacted also declined to comment at the request of the Cartwright family.
A public memorial group for Cartwright has already gone up on Facebook, the social networking site. The group has provided a forum for mourners to post photos, share stories and pay tribute to him.
"A piece of my heart is broken that can never be filled again," said Rebecca Cartwright, Charles' sister, on the memorial site. "Baby Brother, I will forever be indebted to you, your courage and your service. I miss you so much but know you were not afraid or scared." Others wrote stories about times Cartwright made them laugh or how much they enjoyed riding around in his old Jeep. Stephanie Brown talked about being "best friends" with Cartwright for almost 26 years and playing "Marines" together as children.
"I met Charlie when he was a freshman and I was a junior ? through various ups and downs, wrestling matches and nagging moments in the hallway, he always knew how to cheer me up," said Jayme L. Sally. "He talked about the Marines since we were kids; I always knew he'd join," said Heather Renner. "It's soldiers like him that make our country free. Thank you, Charlie, you will be missed greatly." After enlisting as an 18-year-old, Cartwright trained in reconnaissance. He went on to serve tours of duty in Iraq and Afghanistan and won a total of four service deployment ribbons. Cartwright was promoted to sergeant on Aug. 1, 2006, and joined the 1st Marine Special Operations Battalion based at Camp Pendleton, Calif. Because of the base's location, right on the Pacific Ocean, he was able to take up surfing as a hobby. Cartwright was twice awarded the Purple Heart for injuries sustained in battle and accumulated numerous other decorations for his outstanding performance, including a Navy and Marine Corps Achievement Medal, two Combat Action Ribbons, a Navy Presidential Unit Citation, two Marine Corps Good Conduct Medals, the National Defense Service Medal, an Afghanistan Campaign Medal, two Iraqi Campaign Medals, the Global War On Terrorism Expeditionary Medal, a NATO medal and two Certificates of Commendation.
Cartwright is the 19th Marylander in the armed forces to lose his life in Afghanistan since the beginning of Operation Enduring Freedom. The 288 American deaths this year are nearly double last year's total of 144.
Capital News Service contributed to this report.