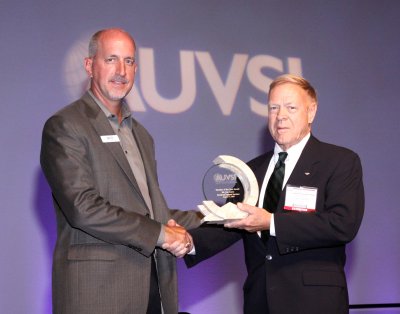 Daryl Davidson, AUVSI Foundation executive director, presents the Member of the Year award to Jim Curry (right). (Submitted photo)
WASHINGTON (November 9, 2009)—Bowhead Science and Technology, LLC (BST) announced today that employee Jim Curry was named Member of the Year by the Association for Unmanned Vehicle Systems International (AUVSI) Foundation. During their annual luncheon held in August at the Walter E. Washington Convention Center, Curry was acknowledged as a key supporter in the development of the undergraduate Student Unmanned Air Systems Competition held annually at Naval Air Station Patuxent River, Maryland's Webster Field Annex.
In addition to this honor, Curry was hailed for his leadership and the contributions he has made to AUVSI. Curry's service as a member of AUVSI has included both public commitments and behind-the-scenes assistance. As a Program Manager, he has supported the Unmanned Aircraft Program Offices at Naval Air Systems Command in Patuxent River for the past 18 years. He has been tireless in his efforts to extol the virtues of unmanned air systems, and recruit supporters into AUVSI.
"We believe the AUVSI Foundation made an excellent choice in selecting Jim Curry as their member of the year. Jim is passionate about his support of unmanned aviation, and even more passionate about encouraging the next generation to become the scientists and engineers who will design and develop our future autonomous systems. Finally, we are proud that he represents Bowhead so well," said Richard Ryan, BST President.
AUVSI is the world's largest non-profit organization devoted exclusively to advancing the unmanned systems community. The AUVSI Foundation promotes the technology of unmanned systems as well as supports the educational pursuits of students interested in the pursuing futures in this industry.
BST is a subsidiary of Bowhead Technical and Professional Services, Inc. (BTPS), a wholly-owned subsidiary of the Alaska Native Corporation Ukpea?vik Iñupiat Corporation of Barrow, Alaska.
Source: Bowhead Science and Technology, LLC