To Compete in Memphis at Int'l Blues Challenge, Jan. 21-23, 2010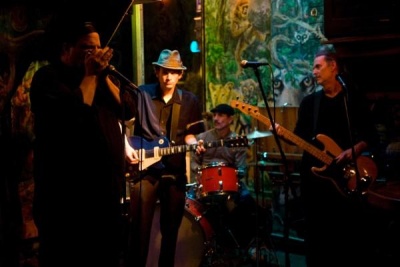 The Big Boy Little Band, winner of this year's DC Blues Challenge, includes Charles County resident Steve "Wolf" Crescenze on bass (at right). (Photo courtesy of Big Boy Little Band)
WASHINGTON (October 20, 2009)—The Big Boy Little Band has won the DC Blues Society's annual competition to select the DC area's top blues band. The DC Blues Challenge, held on Saturday, Oct. 10, included eight bands from Washington, DC and as far away as Richmond and Hagerstown.
As the winner of the DC competition, Big Boy Little will go on to represent the DC Blues Society and compete at the 26th Annual International Blues Challenge, sponsored by the Blues Foundation, in the "Capital of the Blues," Memphis, TN on January 21-23, 2010. One hundred bands from around the world will by vying for the top honor, industry recognition and prizes including cash, appearances at major blues festivals and coveted spots on the "Legendary Rhythm and Blues Cruise."
The national contest has helped launch the careers of nationally-known blues artists such as Susan Tedeschi, Tommy Castro, Watermelon Slim, Zac Harmon and the late Sean Costello.
The Big Boy Little Band includes Charles County resident Steve "Wolf" Crescenze of Welcome. Crescenze, the bass player, has been active in the local music scene since the 1960's. Recent band credits include the Idle Americans and the Acme Blues Company. Crescenze and his bands have also been instrumental in organizing ongoing blues jams in Calvert and St. Mary's counties—open music forums where outside musicians can join the band onstage to perform a few songs.
Other members of the Big Boy Little Band are frontman "Big Boy" Bret Littlehales of Silver Spring on harmonica and vocals, young Matt Kelly of Bowie on guitar, and Robby Leebrick of Falls Church, VA on drums.
With the philosophy, "It's not rock, it's not jazz, it's blues and playing blues is what we do," the Big Boy's been playing the blues in the DC area since 1967, opening for such blues greats as B.B. King, Koko Taylor and Junior Wells.
The band plays traditional blues - covering blues greats such as Muddy Waters, B.B. King, Little Walter, Jimmy Reed as well as originals - in the DC-MD-VA area at a wide variety of venues including honky tonks, dance halls, restaurants and blues clubs.
As house band at the Zoo Bar Café in Washington, DC, the band hosts the long-running Thursday open blues jam and plays every first Saturday. You can also hear them at Bare Bones Grill & Brewery (Oct. 24, Nov. 28); Glen Echo Park's Spanish Ballroom (Oct. 25); Baltimore's Lexington Market (Nov. 13); JVs Restaurant, Falls Church, VA (Nov. 16, Nov. 30, Dec. 21, Dec. 26), as well as a special edition of Wolf's Bangkok Blues, Falls Church, VA Sunday open blues jam on Jan. 17, 2010 - a send-off-to-Memphis party.
As winner of the DC Blues Challenge, Big Boy Little will be performing at two local blues festivals: the College Park Blues Festival at U. of Maryland's Ritchie Coliseum (Nov. 7), as well as the 22nd Annual DC Blues Festival at the Carter Baron Amphitheatre (Sept. 4, 2010).
To help fund the Memphis trip, the DC Blues Society is sponsoring a number of fundraisers including Old Bowie Town Grille (Jan. 9, 2010). Other fundraisers are in the planning stages.
For the full schedule and music samples, visit
www.myspace.com/bigboylittleband
and
www.wolfsmusicweekly.com
.
For more information about the Int'l Blues Challenge, visit
www.blues.org
(Blues Foundation). For more information about Blues in the DC area, visit
www.dcblues.org
(DC Blues Society).