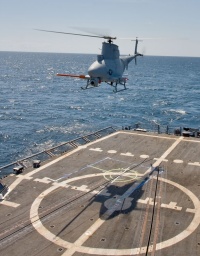 The Fire Scout lands aboard USS McInerney during recent developmental testing. The unmanned rotary aircraft departed this week aboard the McInerney on its first operational deployment. (U.S. Navy Photo)
NAVAL AIR SYSTEMS COMMAND, Patuxent River, Md. – The MQ-8B Fire Scout made naval aviation history when the fleet deployed this revolutionary rotary wing unmanned aircraft system aboard the USS McInerney (FFG-8) Monday.
Fleet introduction of the Fire Scout marks the first time a large, automated UAS has been delivered for ship board operation by sailors.
The Fire Scout departed with the 4th Fleet to assist during a counter-narcotics trafficking deployment. The aircraft will provide unprecedented situational awareness as the fleet employs its Intelligence, Surveillance and Reconnaissance capabilities, said Capt. Tim Dunigan, Fire Scout program manager.
"This is a landmark event for the development of Fire Scout. Deploying the Fire Scout will allow the Navy to learn the operational strengths of the system. The USS McInerney will be critical in developing the tactics, techniques and procedures (TTPs) for the fleet to best exploit the war fighting capabilities of the Fire Scout system," said Dunigan Developmental testing to date demonstrated the aircraft's readiness for deployment with the McInerney, leading to an Operational Evaluation during deployment and full integration in the fleet. The Northrop Grumman-built aircraft has completed over 600 hours of flight testing, with110 take-off and landings from the frigate.
"The Northrop Grumman team is excited to support the US Navy on the first deployment of the Fire Scout system. We look forward to providing the warfighter with this very capable complement to the H60 that is reliable and will evolve with the tactical Navy as they operate it," said Doug Fronius, Director, Tactical Unmanned Systems, Aerospace Systems, Northrop Grumman.
Continued flight tests and OPEVAL on the McInerney will prepare the aircraft for future missions on the Littoral Combat Ship (LCS). The aircraft will be integrated on both variants of LCS. The concept for employment on the LCS is to embark a manned H-60 helicopter with the MQ-8B in support of surface warfare, mine counter measures and anti-submarine warfare missions.
Fire Scout will cost-effectively complement the manned helicopter, Dunigan said.
Source: Naval Air Systems Command (NAVAIR)