LEONARDTOWN, Md. (Oct. 6, 2009) - The St. Mary's County Bureau of Criminal Investigations (BCI) recently released the following incident and arrest reports. BCI is an investigative team comprised of detectives from the St. Mary's County Sheriff's Office and the Maryland State Police, Leonardtown Barrack. The unit was established on July 1, 2003 and is based in Leonardtown.
THEFT SCHEME: On September 28 detectives arrested Sean Tyler Wolthers, 21 years of age, from Mechanicsville, by serving him with a criminal summons. He was charged with a Theft Scheme, 2 counts of Theft Over $500 and 2 counts of Theft Under $500. Detectives determined that Wolthers took possession of known stolen property from an August 22 burglary in Mechanicsville and an August 25 burglary in Prince Frederick. He then sold the items, some of which was later recovered. On August 30 detectives arrested a 17-year-old Mechanicsville juvenile male for committing the burglaries.
RAPE: On September 30 a 23-year-old female went to the Maryland State Police Barracks in Leonardtown and reported a sex offense. She was taken to St. Mary's Hospital and BCI detectives conducted an investigation. It was determined that on September 30 at approximately 8:45 pm, Jerel D. Owen, 22 years of age, from Callaway, an acquaintance of the victim, arrived at her home in Lexington Park. He became enraged over her relationship with another man and forced her on a bed where he committed sex acts. He was arrested by detectives and charged with Sodomy and 4th Degree sex Offense. He was incarcerated in the st. Mary's County Detention center.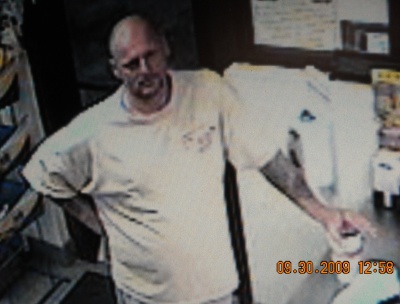 ROBBERY: On September 24th, 2009 during the early morning hours an armed robbery occurred at the Exxon located in Charlotte Hall. Detectives would like to speak with a white male with numerous tattoos captured by video surveillance several hours prior to the crime. St. Mary's County Bureau of Criminal Investigations detectives are requesting that anyone who is familiar with the above person contact them at 240-538-2259 or Crime Solvers at 301-475-3333.