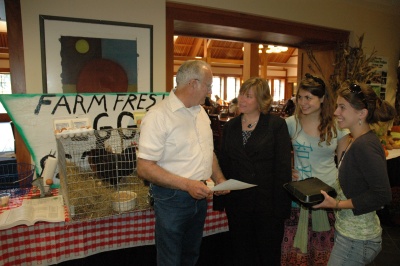 John Dalton, of Dalton's Orchard and Apiaries; St. Mary's College of Maryland dean of students Laura Bayless; and Master of Arts in Teaching student Rachel Clement'08 and Katie Mazzocco'10 discuss chickens from his farm behind him and the fresh eggs he provides the college every day. (Submitted photo)
ST. MARY'S CITY, Md. (Oct. 3, 2009) – Students at St. Mary's College of Maryland (SMCM) ate lunch earlier this week made completely from local food as part of SMCM's and Bon Appétit Management Company's fifth annual Eat Local Challenge. Bon Appétit is a national food service company that provides food services for the college.
SMCM students dined on foods that came from sources within a 150-mile radius with most ingredients coming from St. Mary's County. Favorite dishes among the students included Southern Maryland steamed crabs, stuffed ham, yams, and sausage.
"The abundance of vegetables and knowing exactly where the food came from" were things that really stood out to Becca Clement'10. Seth Farber'10 thought that the event "really demonstrated that there is a plentiful base of local resources that we should buy from more often."
Bon Appétit is committed to buying sustainable and local foods, often purchasing locally grown and organic food to support local farmers and offer fresh healthy produce to students. It strives to make food choices that support the environment. Sources for the SMCM Eat Local Challenge included Dalton's Farm in Hollywood, Even Star Organic Farm in Lexington Park, Produce Patch in Great Mills, and Butler Produce in Mechanicsville.
Bon Appétit Management Company is an onsite restaurant company that provides café and catering services to corporations, colleges and universities, and specialty venues. They have over 400 locations in 29 states. Bon Appétit encourages dining rooms as gathering places and as cultivating a sense of community and comfort. The company demonstrates its commitment in everyday operations by providing a wide variety of menu items made with fresh ingredients and by promoting a sustainable food system.
George McClusick, general manager of SMCM Bon Appétit, said "I really appreciate all of the help from the Student Environmental Action Coalition. They are constantly pushing for more sustainable practices here at SMCM and they helped to make the Eat Local Challenge a success."
Many students would like to see events like the Eat Local Challenge more often at SMCM. Becca Clement'10 said, "I would feel better about paying for a meal plan because this food is of a better quality. I would leave my townhouse more to come to the Great Room!"
According to Worldwatch Institute, food in the United States now travels 1,500 to 2,500 miles from farm to table, as much as 25 percent more than two decades ago. Increasingly, food is being grown or processed overseas. The required transport, especially air-freighting, damages the environment in the form of global warming and air pollution. Eating regionally helps reduce the amount of non-renewable resources wasted in transporting food.