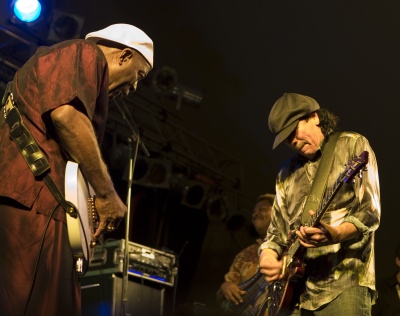 Buddy Guy (left) and Carlos Santana perform at Paul Reed Smith (PRS) Guitars' headquarters in Stevensville, Md. on Sept. 25. The performers presence at the show was not preannounced. (Photo credit: Alexis Somers PRS Guitars)
STEVENSVILLE, Md. (Sept. 29, 2009)—Signature Club members and other VIP Experience PRS 2009 guests were treated to a special surprise at Paul Reed Smith Guitars' headquarters in Stevensville, Maryland. Carlos Santana and Buddy Guy performed to an intimate crowd of 800 who were completely unaware that either of these guitar legends would be part of the show. The secret performance served as the official kick-off for the annual two-day open house that PRS Guitars held on September 25 and 26.
More than 1,700 people from around the world turned out for the main event that featured clinics, seminars, factory tours, archive guitar presentations, demonstrations by PRS craftsmen and performances by more than a dozen PRS artists. Guests also learned the basics on staining and carving guitar tops during interactive displays. A long list of models were announced as being discontinued as well, including the Custom 22 and the current paisley amp covering, which will change from year-to-year.
"Now is the time in our careers as luthiers, musicians and craftsman to really shine. We could be just weathering the economic storm, but our collective passion at PRS Guitars is driving us to make the best musical instruments possible every single day. We want to create our best so you can have our best," said Paul Reed Smith.
With that message in mind, PRS has also announced several new instruments. New electric and acoustic guitar models were introduced along with two new amp models and the new 25th Anniversary line of PRS guitars. A limited number of 25th Anniversary model PRS guitars will be in stores this fall preceding the official celebration in 2010.
Santana and Guy shared the stage playing three of these brand new PRS instruments – Santana on the newly released 25th Anniversary Santana model and the limited edition Carlos Santana SE One Abraxas model and Guy on a brand new PRS 305 model. Also shown were models featuring newly developed 57/08 Narrow Field pickups, explained by Paul to "sound nothing like any other pickup available today." Guy and Santana also shared the stage with The PRS Band including Paul Smith, Gary Grainger on bass, Greg Grainger on drums, Mike Ault on guitar, Derek St. Holmes on vocals as well as other special musical guests. Celtic acoustic guitar virtuoso Tony McManus commenced the night's performances.
Dweezil Zappa performed as Zappa Plays Zappa on Friday night with earlier performances by John Wesley and Steven Wilson of Porcupine Tree, and Aussie Rockers Electric Mary. Following his Friday performance, Dweezil was invited to visit the recently opened Private Stock wood library inside of PRS's new facilitywhere he selected special wood and materials to be used in his own Private Stock PRS guitar.
The line up on Saturday night included Nicky Moroch (David Sanborn), Howard Leese (Heart), Jim McCarty (Cactus), Johnny Hiland, Nick Catanese (Black Label Society) Mike Scott (Justin Timberlake), Bugs Henderson, David Grissom, Simon McBride, Howard Leese and Bernie Marsden of White Snake.
The event, in its third year, is free to guitar aficionados with an invitation from an authorized PRS dealer.
Paul Reed Smith Guitars is a leading manufacturer of high-quality instruments in Stevensville, Maryland and has been providing some of the world's most renowned guitarists with instruments since 1985. More than 190 highly skilled craftspeople produce more than 70 guitars each day for worldwide distribution. PRS Acoustics and PRS Amps were introduced as new product lines in 2009 with support from renowned artists Ricky Skaggs and Derek Trucks. Carlos Santana, Linkin Park, Chris Henderson of 3 Doors Down and Mark Tremonti of Creed are also among the artists currently playing PRS guitars.
Source: PRS Guitars