Family Dynasty Can Be Traced Back 400 Years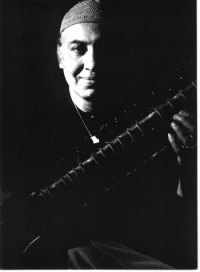 ST. MARY'S CITY, Md. (Sept. 24, 2009) — The hypnotizing melodies of the sitar, popularized in the West by Ravi Shankar, and the surbahar, a deeper sounding "bass sitar," will be coming to St. Mary's College of Maryland (SMCM) in a performance by classical Indian music master Ustad Imrat Khan Friday, September 25, 2009, at 8:15 pm in Auerbach Auditorium of St. Mary's Hall. Imrat Khan will also give a talk in the Blackistone Room in Anne Arundel Hall at 5 p.m. that day. Both events are open to the public.
Indian classical music has been described as a religion where the music, knowledge, and musical research is passed down from guru to disciple by word of mouth. A gharana, or musical dynasty, is formed when this process of teaching is passed down for five or six generations. Imrat Khan is the senior-most member of the famous Etawa Gharana, which can be traced back over 400 years to the court of the Mogul Emperor Akbar.
With many albums, Imrat Khan also has taught students around the globe, including a course at Washington University that focused on influence of music and culture in and out of the subcontinent of India. Said one of the students on Imrat Khan's blog: "Professor Khan taught us that instead of listening to music that seems to fit your current mood, try instead to listen to music that fits the mood you wish to be in."