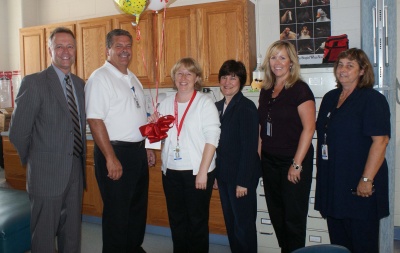 Katherine Robeson (center), is congratulated, for being named Maryland's School Nurse of the Year, by (left to right) Dr. Michael J. Martirano, superintendent of schools, Board of Education Chairman Bill Mattingly, Vice Chairman Cathy Allen, Andrea Owens, principal of Dynard ES, and Patricia Wince, SMCPS supervisor of health. (Submitted photo)
LEONARDTOWN, Md. (Sept. 22, 2009)—Ms. Katherine Robeson, a school nurse at Dynard Elementary School, has been selected as Maryland's School Nurse of the Year by the Maryland Association of School Nurses. This award recognizes school nurses who demonstrate excellence in school nursing practice and leadership in school health.
According to Ms. Patricia Wince, St. Mary's County Public Schools' supervisor of health who nominated Ms. Robeson for the award, Robeson demonstrates exemplary professional nursing and specialized practice which advances the well-being, academic success, and lifelong achievement and health of the students at Dynard.
"Ms. Robeson works with the school staff and parents to ensure that each child is in the best possible physical and emotional health to benefit from school experiences," said Ms. Wince. "She provides health education, health promotion, preventive health services, health assessment, and referral services to Dynard parents and the school community."
In addition to her work at Dynard, Ms Robeson has taken the lead in becoming an instructor/trainer for first aid, cardiopulmonary resuscitation, and automated external defibrillation through the American Red Cross, and provides this training to the school system's new school nurses. She also serves as a team leader, responsible for coordinating annual training for over 350 school system employees.
Ms. Robeson, who has practiced as a registered nurse since 1992 and served as a school nurse for six years, will now represent Maryland in the National Association of School Nurses' (NASN) School Nurse of the Year competition.