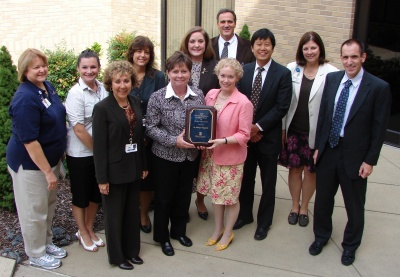 St. Mary's Hospital received the Delmarva Foundation Excellence Award at a ceremony on Sept. 3. Back row from left: Nancy Griffin, Physiology; Kristen McVerry, RN, Medical/Surgical/Pediatrics; Joy Homan, RN, Performance and Clinical Resource Management; President and CEO Christine R. Wray; Vice President Mark Boucot; Dr. Harold Lee; Vice President for Nursing MaryLou Watson; and Vice President for Finance Ric Braam. Front row from left: Vice President Joan Gelrud; Linda Dudderar, chairwoman of the Board of Directors; and Dr. Nancy Friedley, medical director of the Delmarva Foundation for Medical Care. (Submitted photo)
LEONARDTOWN, Md. (Sept. 12, 2009)—St. Mary's Hospital received the prestigious 2009 Delmarva Foundation Excellence Award for Quality Improvement at a ceremony at the hospital on Sept. 3, marking the second year in a row the hospital has achieved this honor.
"I am so proud of the entire hospital and all of our physicians and employees who have worked so hard to reach this goal," said St. Mary's Hospital President and CEO Christine Wray. "It takes a great team, working together, to achieve this award."
This accomplishment comes from the hospital's outstanding quality improvement measures that ensure proper care for all patients. The hospital also received the award in 2004 and 2008. This award recognizes individual hospitals' performance improvement in the four national inpatient clinical areas - acute myocardial infarction, heart failure, surgical care improvement and pneumonia.
The ceremony featured remarks from Wray and Board of Directors Chairwoman Linda Dudderar, as well as a presentation of the award by Dr. Nancy Jane Friedley, medical director of the Delmarva Foundation for Medical Care. Three hospital employees also spoke about their experiences and identified certain efforts that led to the hospital receiving the award.
Nancy Griffin, operations specialist for Cardiology, Neurology and Pulmonary Services at St. Mary's Hospital, spoke about the successes of the Vaccination Focus Group in ensuring vaccinations of appropriate inpatients who are screened upon admission and meet the established Centers for Disease Control and Prevention criteria to receive pneumococcal and flu vaccines.
"The focus group truly epitomizes the definition of an excellent team working for a successful outcome," said Griffin.
Joy Homan, clinical documentation specialist, discussed teamwork and the attention to detail that is the norm at St. Mary's Hospital.
"Every patient is a person who is someone's son, daughter, father, or mother - not a number or just another bed," she said. "And every treatment or procedure is provided to that individual knowing that it could improve his or her quality of life. The goal is to provide care that will allow that person to reach his or her maximum health potential, not just to treat the current problem and send the patient home with a temporary fix."
Providing safe, quality care is the top priority at the hospital and what motivates employees like Kristen McVerry, a nurse in the hospital's Medical/Surgical/Pediatric Department. She discussed a time when she was out in the community and three different patients or family members of patients thanked her for the care she provided.
"It filled my heart with warmth and made me realize that even though providing care is exhausting, it pays off in the end, and that one 'thank you' can recharge my batteries and allow me to go another round," she said. "We all have a story in this room that fuels us forward in our journey in life and here at St. Mary's Hospital. That is what makes us so great at what we do...healing."
The data used to achieve this award is publicly reported and available on many websites, such as Hospital Compare and the Maryland Health Care Commission's website, more commonly known as the "Maryland Hospital Report Card."
Source: St. Mary's Hospital, Leonardtown