Iron Heart, The True Story of How I Came Back from the Dead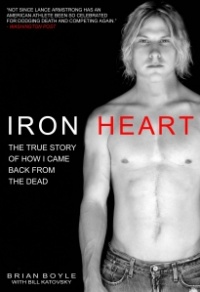 SMCM student Brian Boyle's very personal account of his miraculous recovery from a near fatal car accident.
On Sale now at amazon.com
ST. MARY'S CITY, Md. (September 12, 2009) — Five years ago, just before Brian Boyle was to begin his first year at St. Mary's College of Maryland, he was almost killed when his car was flattened by a dump truck near his home in Welcome, Maryland. October 1, his very personal account of the journey back, Iron Heart, The True Story of How I Came Back from the Dead, is available from national book sites and from the college bookstore. Boyle is now a senior at St, Mary's, and plans to graduate this spring with an art degree.
But it was not always so easy to look forward. After the accident, he spent two months in an induced coma at Prince George's Hospital Center. He was conscious for part of it, but – paralyzed - couldn't tell anyone. Then came pneumonia, infections, seizures, and pain. As time went by, he would create goals; first simple ones, tie the shoe, stand up; then bigger ones, swim across the pool. There are still setbacks, but the now burly Boyle has successfully run ironmans, he's a certified personal trainer, and even talks of swimming the English Channel.
So why revisit the tough times and write a book? "When I first got home the nurses told me to keep a journal, a log. It was a good idea, because it helped me to understand psychologically the emotional impact ," he said. The art major went on to say that the pen became sort of like a paintbrush. "There were so many things I couldn't talk about then, not even to my parents. It was my escape, and it helped me gain perspective."