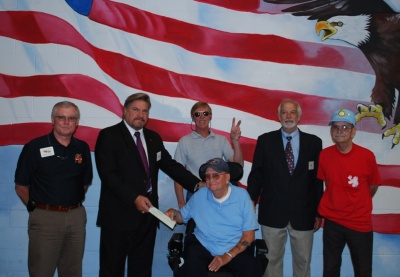 (Standing left to right) Michael Far, Deputy Director for Charlotte Hall Veterans Home; Robert Hall, Governor Patuxent Moose Lodge Hollywood; Timothy O'Connor; Ron Payne and Kermit Zerby. Receiving the donation is resident Francis Kellum (seated).
CHARLOTTE HALL, Md. (July 20, 2009)—Patuxent Moose Lodge Governor Robert Hall recently presented a $1,300 donation to the Charlotte Hall Veterans Home. The check was received by resident Francis Kellum and Michael Far, deputy director for the home.
The facility provides assisted living and skilled nursing long-term care for Maryland veterans and eligible spouses who are unable to take care of themselves due to age or disability.
The funds were raised through an auction held in April by the Patuxent Family Moose Lodge #2393, based in Hollywood. One hundred percent of the proceeds were donated to the veterans home, according to Hall.
Mr. Kermit Zerby was the auctioneer.