SMCM Junior Sophia Travern Interns with NASA in Houston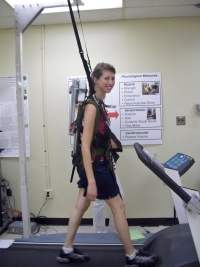 St. Mary's College of Maryland student Sophia Traven tests a modified hiking backpack on a treadmill, which simulates the weight and center-of-gravity shift experienced by spacewalking astronauts wearing the Life Support Pack (LSP) spacesuits. Traven is participating in the National Space Biomedical Research Institute's Summer Internship Program at NASA Johnson Space Center. (Submitted photo)
HOUSTON – (July 20, 2009) – St. Mary's College of Maryland (SMCM) junior Sophia Traven is getting first-hand knowledge of the spaceflight program this summer. Traven is one of 18 students selected nationwide to work with scientists at NASA through a National Space Biomedical Research Institute (NSBRI) internship.
Traven, a biology major and aspiring astronaut, is assigned to the Neuroscience Laboratory at NASA Johnson Space Center (JSC) in Houston. She is assisting scientists on a project to develop a more balanced and mobile spacesuit for use by astronauts during spacewalks.
In addition to gaining research experience, Traven said the internship will help her in the pursuit of career goals. "Interning for NSBRI at JSC is giving me insight into the kinds of biomedical projects that NASA is working on and where they hope to go with this research," she said. "This experience and knowledge will become invaluable in my endeavor to become a military flight surgeon and, one day, an astronaut."
Traven is a resident of St. Mary's County and a 2007 graduate of St. Mary's Ryken High School in Leonardtown. She is the daughter of Ricardo and Shameran Traven.
NSBRI's summer internship program gives selected students an opportunity to spend 10 to 15 weeks working on projects with scientists at JSC or NASA Glenn Research Center in Cleveland. With the addition of this year's class, more than 100 students have now participated in this highly competitive program.
"The summer internship program allows talented students such as Sophia to learn about research for human spaceflight and how these efforts benefit health care on Earth," said Jeffrey Sutton, NSBRI director.
NSBRI, funded by NASA, is a consortium of institutions studying the health risks related to long-duration spaceflight. The institute's science, technology and education projects take place at more than 60 institutions across the United States.
NSBRI projects address space health concerns, which include bone and muscle loss, cardiovascular changes, radiation exposure, neurobehavioral and psychosocial factors, remote medical care and research capabilities, and habitability and performance issues such as sleep cycles and lunar dust exposure.