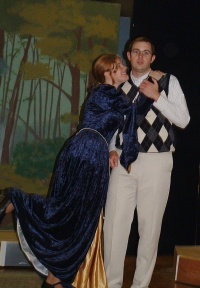 Catherine Di Cristifaro as Lydia Lansing and Andrew Pollard as Daryl.
LEXINGTON PARK, Md. (July 16, 2009)—High price of gas got you down? Looking for a way to take a trip without leaving town? If so, get yourself hither to the Three Notch Theatre and The Newtowne Players' upcoming production of the Helen Hayes award-winning comedy, Shakespeare in Hollywood.
Written by Ken Ludwig, author of Lend Me a Tenor (a previous NTP audience favorite), the show takes you back to Hollywood in its heyday. You'll experience movie studio shenanigans as never before. This energetic, fast-paced comedy is one ambitious and funny show.
The story is about Shakespeare's most famous faeries, Oberon and Puck, who somehow take a wrong turn in their travels and magically materialize on a Warner Brothers Hollywood set. The two are smitten instantly by the glamour and glitz of showbiz and are ushered onto the silver screen to play none other than themselves. This show will lift you out of today's concerns and drop you back into 1930s Hollywood, complete with stars, starlets, gossip columnists and movie moguls.
Ever want to see a Hollywood star up close? Here's your chance! See the likes of Dick Powell, Joe E. Brown or Groucho Marx, among others. Not sure who these folks are? Ever heard of Louella Parsons? If not, then come for the history lesson on how movies were made and stars discovered long before the advent of video, DVD, texting and the world according to Facebook and Twitter!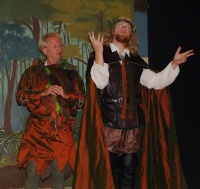 John Raley as Puck and Peter Klug as Oberon.
The set that accompanies all the action is one of NTP's most challenging, calling for quick changes from Grauman's Chinese Theatre to a Hollywood soundstage to Jack Warner's mansion garden party. Theatre-goers will also be transported visually from the magic forest of Arden (from Shakespeare's A Midsummer's Night Dream) to the Warner Brothers Studio back lot and costume shop.
Performances are July 24 through August 9 at Three Notch Theatre on 21744 South Coral Drive in Lexington Park, Md. Curtain is at 8 p.m. Thursdays through Saturdays and at 3:30 p.m. on Sunday afternoons.
Tickets are $15 for adults; $12 for seniors, students and the military; and $10 for children. All tickets are $10 for Thursday performances. Light refreshments and beverages are also available for purchase at the theatre. For ticket reservations or information, call 301-737-5447.
This show is not suitable for young children.