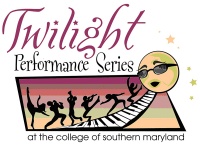 LA PLATA, Md. (July 16, 2009)—The Twilight Performance Series sponsored by the College of Southern Maryland (CSM) continue throughout July. The free family-friendly series will feature artists performing a variety of music including jazz and Celtic tunes at each of the campuses in La Plata, Leonardtown and Prince Frederick.
Performers will be at the Leonardtown Campus on Tuesdays, July 21 and 28; at the La Plata Campus on Wednesdays, July 22 and 29; and at the Prince Frederick Campus on Thursdays, July 23 and 30. All performances will begin at 6:30 p.m.
Twilight performances include the Joshua Walker Jazz Trio on July 21, 22 and 23 and Darcy Nair performing traditional Celtic tunes with Craig Williams and Chelle Fulk on July 28, 29 and 30.
The Joshua Walker Jazz Trio performs a variety of jazz styles as well as original compositions by Walker. The group's sound ranges from contemporary to modern progressive jazz. The group has performed throughout the United States and Canada in a variety of jazz festivals as well as on cruise ships.
Darcy Nair performing with Craig Williams and Chelle Fulk specialize in Celtic music. Since 1990 Nair has performed as a soloist and with a variety of folk groups, especially groups specializing in Celtic music. She has performed at renaissance fairs, coffee houses, pubs and festivals, playing the hammered dulcimer and the mandolin. Her repertoire includes historic and modern music from Ireland, Scotland, Great Britain and Wales, as well American folk and maritime traditions.
In the event of inclement weather, performances will move indoors. On the La Plata Campus performances will move to the Center for Business and Industry, BI-113, on the Leonardtown Campus to Building A, Auditorium, and on the Prince Frederick Campus to Room 120.
For information on the Twilight Performance Series call 301-934-7861 or 301-870-2309, 240-725-5499, or 443-550-6169, Ext. 7861 or visit
http://csmd.edu/finearts
.
CSM's campuses are accessible to patrons with disabilities. Audio description for the visually impaired and sign language interpretation for the hearing impaired are available with a minimum two week advanced notice. If you are interested in these services, please contact the academic support/ADA coordinator at 301-934-7614.