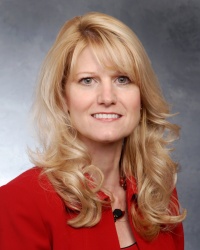 Dr. Rebecca B. Bridgett was named the new Charles County County Administrator and will begin her employment on Monday, August 24. (Submitted photo)
LA PLATA, Md. (July 16, 2009) - The Charles County Commissioners Wednesday announced the appointment of Dr. Rebecca B. Bridgett as the new County Administrator. Dr. Bridgett will begin her employment with Charles County Government on Monday, August 24. Dr. Bridgett will replace Roy E. Hancock, who has been serving as Acting County Administrator since June 23. Mr. Hancock will resume his duties as the Assistant to the County Administrator when Dr. Bridgett's tenure begins in August. Hancock replaced Paul Comfort who was terminated effective July 3. Comfort held the position since May 22, 2007.
As the County Administrator, Dr. Bridgett will oversee all County departments and be responsible for the day-to-day management of County Government, in accordance with the policies and directives of the County Commissioners.
Rather than embark on a new recruitment process, the Commissioners opted to re-interview candidates from a previous recruitment process conducted in early 2007, which involved a comprehensive screening and regional search. Based on her excellent qualifications and abilities, the Commissioners made a unanimous decision to select Dr. Bridgett to fill the County Administrator position.
"We were very impressed with Dr. Bridgett then and now. She currently manages and oversees a large budget and staff, and she brings with her a wealth of knowledge, stability, and a proven track record of success at the Department of Social Services," said Commissioner President Wayne Cooper. "Also, as a lifelong Charles County resident, Dr. Bridgett is well known and respected throughout Charles County and the State of Maryland."
Dr. Bridgett has served as Director of the Charles County Department of Social Services for the past five years. In this capacity, she has supervised the daily operations of the local Social Services department, overseeing 150 staff and a $42 million budget.
"Dr. Bridgett has a long history with Charles County-she grew up here and was educated here. Her commitment to this County's citizens is unwavering, as attested by her prior service on the Board of Education and her outstanding leadership at the Department of Social Services. We are very fortunate to have a person of her caliber joining our team," said Commissioner Vice President Edith J. Patterson.
Some of Dr. Bridgett's key career accomplishments include serving as the Acting Executive Director of the Social Services Administration, Maryland Department of Human Resources (DHR), a pivotal position for state government's successful interface with federal government. In 2002, Dr. Bridgett was elected as a member and chair of the Charles County Board of Education, where she helped develop policy for public school students and managed a $200 million budget.
Commissioner Reuben B. Collins, II said, "Dr. Bridgett's skills as an administrator are clearly established. Her hiring as Charles County Administrator ensures a swift and smooth transition in this key executive-level position, and that the Commissioners' stated goals for the future of the County will not be delayed. She will be a welcome addition to the team."
Prior to her current position, Dr. Bridgett spent 10 years serving Charles County in various managerial positions in the fields of education and human services. Her résumé includes previous employment with Charles County Government as the Director of the Charles County Human Services Partnership.
Dr. Bridgett holds a Bachelor of Arts degree in English Communication from Campbell University; a Master of Arts degree in Special Education from Appalachian State University; and a Doctor of Education degree from NOVA Southeastern University.
"Dr. Bridgett has distinguished herself as a leader in the Department of Social Services, and I look forward to having her management skills in our corner as we face tough budget challenges in the year ahead and press forward on our priorities for the County," said Commissioner Gary V. Hodge.
"I have had the privilege of knowing Dr. Bridgett for a long time, and I've always admired her straightforward management style," said Commissioner Samuel N. Graves, Jr. "She came to the Department of Social Services and worked with staff to improve performance. She is a task master and a high performer herself, and she expects stellar performance from those who work for her. Most importantly, she would never ask anyone to do something she wouldn't do herself, which shows that she leads by example. For all these reasons, she is an ideal candidate for this position."
"In Rebecca Bridgett, Charles County is getting a thoughtful, action-oriented and wise leader," said Department of Human Resources Secretary Brenda Donald. "She has been a leader in providing services to those in need in Charles County. We will miss her greatly, but we are excited that she has been chosen for such an important post."
"It has been an honor to serve as the Director for the Charles County Department of Social Services for the last five years. I am ever grateful for the opportunity to help our most vulnerable citizens on behalf of the Department of Human Resources," said Dr. Bridgett. "I now have the privilege to work more closely with the Charles County Commissioners and the Charles County Government. I believe we all want the same thing-for Charles County to be the best it can be. I am happy to be a part of our success."
Source: Charles County Commissioners