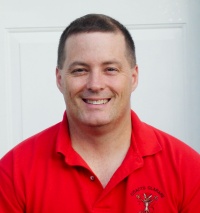 Scott D. Tingle, Commander U.S. Navy, of Hollywood, Md. has been selected as a member of NASA's 2009 Astronaut Class. (Photo: NASA)
HOUSTON, Tx. (June 29, 2009)—Scott D. Tingle, a U.S. Navy commander assigned to Naval Air Station Patuxent River, is one of nine people selected for NASA's 2009 astronaut candidate class. Tingle is 43 and resides in Hollywood. He was selected from a list of more than 3,500 applicants.
Tingle said he was very excited when word reached him that he had been selected. "The excitement of being asked to join this incredible team was overwhelming," said Tingle in a statement. "I ultimately summed it up by indicating that my seabag would be packed that night."
Tingle said he knew he wanted to be an astronaut two days after his 4th birthday.
Tingle attributes his success to people in his life who inspired him and a plan. "My inspirations included our space pioneers, several outstanding teachers and mentors, my family and many life-long friends. I planned an education and training path focused on my interests, which included science, engineering, and flying…and then stuck to it," said Tingle.
Despite his phenomenal success in life, Tingle appears to be a "regular Joe." He cites his hobbies and interests as "guitar, auto repair, home computing, woodworking, playing with the kids and two energetic Dalmatians."