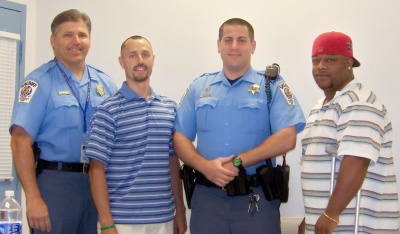 Sheriff Tim Cameron, Jason Brown, Deputy Thomas Seyfried, and Jeramiah Cooper. Brown and Cooper were commended for apprehending a shoplifting suspect. (Submitted photo)
LEONARDTOWN, Md. (June 21, 2009)—Jason Brown and Jeramiah Cooper were commended by St. Mary's County Sheriff Tim Cameron on June 10 for helping to apprehend a shoplifter. The man was later found to have an open warrant for his arrest.
On May 8, Brown was in the parking lot of BJ's Wholesale Club in California loading his purchases into his vehicle when he observed a man running from the store with a television box in his arms. An employee exited the store yelling that the man had just stolen the television. Brown pursued the suspect on foot through the parking lot.
Cooper witnessed the events and began driving his vehicle towards the end of the parking lot in an attempt to corner the suspect and prevent him from fleeing. Brown caught the suspect and took him to the ground.
Deputy Thomas Seyfried was the first to arrive on the scene where he found Brown and Cooper detaining the suspect on the ground.
The suspect was arrested and charged with theft over $500, possession of a controlled dangerous substance and possession of drug paraphernalia which were located on his person. It was later discovered that the suspect also had an open warrant for his arrest.