Performance by World-Renowned Flutist Giuseppe Nova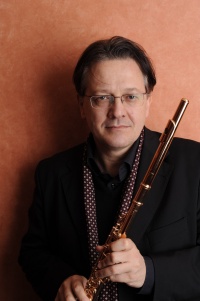 ST. MARY'S CITY, Md. (June 21, 2009) — St. Mary's College of Maryland (SMCM) River Concert Series 2009 continues Friday, June 26, with "Uncommon Men," that includes works by Beethoven, Copland, and Haydn, and features renowned Italian flutist Giuseppe Nova and the Chesapeake Orchestra, directed by Jeffrey Silberschlag. Enjoy the 11th summer of world-class music and food from local vendors. Gates open at 5 p.m. and the concert starts at 7 p.m. The concert is free and open to the public, and picnic baskets are welcome.
Nova will perform Haydn's Flute Concerto in D major. His flute performances have been hailed in such publications as The Washington Post, which called his talent "fascinating." Nova graduated from the Conservatory in Turin and Conservatoire Supérieur de Lyon where he studied with flutist Maxence Larrieu. Described as one of the most outstanding Italian flutists of his generation, Nova made his debut in 1982 as a soloist with the RAI Symphony Orchestra. He has performed in the most important concert halls in Europe, the United States, Japan, and China. Nova is also director of St. Mary's College Alba, Italy program.
Under the musical direction of Silberschlag, the Chesapeake Orchestra will perform Aaron Copland's Symphony No. 3, "Fanfare for the Common Man" and Beethoven's Symphony No. 4. Silberschlag has distinguished himself in the world of music, performing as a conductor and trumpet soloist throughout Europe, the United States, Russia, China, Japan, and Israel. His performances have been described as "outstanding"by Fanfare magazine. He is music director and conductor of the Chesapeake Orchestra and the River Concert Series, and is co-director of the Alba spring festival held annually in northern Italy.
Silberschlag has created a partnership between St. Mary's College and the Royal Scottish Academy of Music and Drama. He has appeared as guest conductor with the London Symphony Orchestra, St. Petersburg Soloists, Orchestra Filharmonici di Torino, Symphony Orchestra of Rumania, London Philharmonic, La Scala Virtuosi, Orchestra Sinfonia di Ivrea, Salzburg Chamber Soloists, Prague Vituosi, and the Moscow Academy Chamber Orchestra.
The goal of the River Concert Series is to assist in economically enhancing the region and cultivating a cultural tourist destination by organizing arts and historical offerings. In 1999, the Chesapeake Orchestra began a residency relationship with SMCM with the initiation of the River Concert Series. Since then, the Chesapeake Orchestra has sought to provide musical programming to reach the broadest possible audience.
The River Concert Series has become the cornerstone of growing arts activities at the College and throughout St. Mary's County.
For more information, visit the River Concert Series Web site at
http://www.riverconcertseries.com/
.