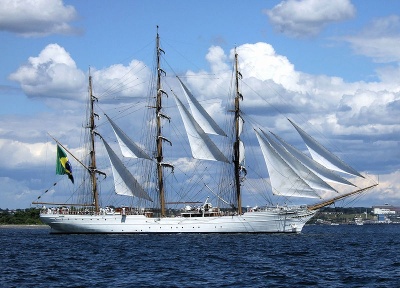 The Cisne Branco, a Brazilian Navy sailing vessel, came to the assistance of a distressed sailboat off the coast of N.C. today. (Photo: Wikipedia)
PORTSMOUTH, Va. (June 17, 2009)—The crew of the Cisne Branco ("White Swan" translated literally, or
Mute Swan
), the Brazilian navy's tall ship, is assisting three people aboard a 50-foot disabled sailboat Wednesday, 200 nautical miles east of Cape Hatteras, N.C.
The crew of the sailboat Infanta used a satellite phone to call the Coast Guard at about 10 p.m. Tuesday after the sailboat was beset by weather. Rescue Coordination Center Norfolk contacted the Infanta crew to determine the nature of their distress. Search and rescue coordinators broadcasted an Inmarsat C SafetyNET Enhanced Group Call (EGC) to all ships in the area to locate and assist the disabled sailboat.
The Cisne Branco crew responded to the EGC at about 8 a.m. Wednesday and diverted about 80 nautical miles to assist the Infanta crew. The Cisne Branco could see the Infanta at 2:20 p.m.
The Infanta was enroute to Long Island Sound when they ran into bad weather. They were having engine problems and unable to set the main sail.
Cisne Branco is a tall ship used by the Brazilian navy for training and is homeported in Rio de Janeiro.
"I think it's great considering we just assisted the Brazilians with the Air France Flight 447 search off of their northeast coast," said Lt. Cmdr. William B. Brenneman, a SAR coordinator at RCC Norfolk. "The Brazilian navy has in turn responded to a case in the Fifth District area of responsibility and has assisted the Coast Guard in providing aid to the sailing vessel Infata."
Source: U.S. Coast Guard