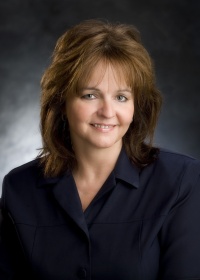 LA PLATA, Md. (June 16, 2009) - The Charles County Board of Commissioners and the Charles County Economic Development and Tourism Department have named Darlene Breck, President and CEO of Southern Maryland Business Center, as this month's Charles County "Soar Like An Eagle Entrepreneur of the Month." Ms. Breck was presented with a plaque and a proclamation at a ceremony in the County Commissioners' meeting room on Tuesday June 9, 2009.
Breck opened the Southern Maryland Business Center in Waldorf in 2003 in an historic, renovated building that had previously been a real estate office. The two story building was modernized and redesigned with a formal lobby and reception area for clients; a conference room; centralized mail, fax, and copying facilities; and a kitchen. Rent for individual offices and office suites includes use of these facilities which are shared by all tenants. A "virtual office" option gives users access to reception, mail, and conference rooms without having an office on site. This allows small and start-up businesses, including home based businesses, a professional image at a fraction of the cost.
Southern Maryland Business Center was so successful in its original location that Ms. Breck has since expanded into a second building next door with additional office space and more shared facilities for all tenants.
When Homeland Security was formed and needed a location in Southern Maryland to process ID badges for fuel carriers, they choose Southern Maryland Business Center because of its central location. Several law school graduates choose to start their law practices there because of the professional atmosphere and conference rooms. Past and present tenants include several IT start-ups and providers of other professional services.
In all, over 70 small and large companies have been located at Southern Maryland Business Center since it opened. Many are start-ups and entrepreneurial enterprises themselves, and Ms. Breck is always willing to give them advice and the benefit of her own business expertise at no extra cost.
"Darlene Breck not only exemplifies entrepreneurism, she nurtures it in others," said County Commissioner President Wayne Cooper. "I'm sure that many of the future Charles County "Entrepreneurs of the Month" will have had their start at the Southern Maryland Business Center. We are delighted to recognize Darlene Breck for paving the way."