Award Ceremony Saturday, August 1 at SMCM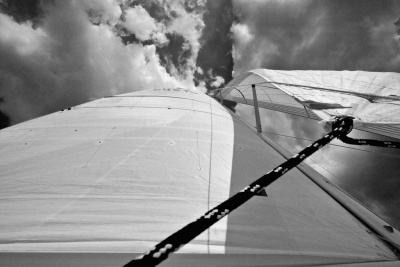 This photo, "Black & White #4," by John Esparolini of Berryville, Va. won first place in the B&W category of the 2008 Governor's Cup Yacht Race Photography contest.
ST. MARY'S CITY, Md. (June 13, 2009) — From snoozing sailors to stormy weather, the 2008 St. Mary's College of Maryland (SMCM) Governor's Cup Yacht Race Photography Competition yielded a diverse range of award-winning photographs. The historic race was captured by some of the best photographers on the Eastern Seaboard. First-place winners include Tom Wolff's "Untitled" in the color category, John Esparolini's "Black and White #4" in the black and white category, and Al Schreitmueller's "Canvas on Canvas" in the post-race category.
St. Mary's College sponsors the race and the photography competition.
Winning photographs are on display at Baltimore-Washington International Airport, at the entrance to B Concourse.
This is the 10th year the College has hosted the competition, which recognizes excellence and creativity in capturing the spirit of the Chesapeake Bay's oldest and longest overnight yacht race. Scores of photographs were judged.
Winning photographers will be honored during the 2009 Governor's Cup Yacht Race awards ceremony, which will take place at 4:30 p.m. Saturday, August 1, at the College's waterfront under the tent.
2008 Governor's Cup Photography Competition Winners:
Color Category:
-- First Place—Tom Wolff, "Untitled," Mt. Rainier, Md.
-- Second Place—Kathleen Lange, "Untitled #1," Bowie, Md.
-- Third Place—Hunter Harris, "Governor's Cup Sunset," Easton, Md.
-- Honorable Mention—Tom Wolff, "Night Sailing"
-- Honorable Mention—Robert Tinari, "Print #12," Chesapeake Beach, Md.
-- Honorable Mention—John Bildahl, "Atlantis Weather Gear," Annapolis, Md.
Black and White Category:
-- First Place—John Esparolini, "Black & White #4," Berryville, Va.
-- Second Place—Kurt Lengfield, "Sepia Sailing," Piney Point, Md.
-- Third Place—John Esparolin, "Black & White #1,"
Post-Race Category:
-- First Place—Al Schreitmueller, "Canvas on Canvas," Annapolis, Md.
-- Second Place—John Esparolini, "Post-Race Photo #2"
-- Third Place—Keith Wood, "Untitled," California, Md.
Judges for the contest were Colby Caldwell and Catherine Dunn.
The 2009 Governor's Cup race will take place Friday, July 31 through Saturday, August 1. Registration for the race and photo competition is online at
http://smcm.edu/govcup/.