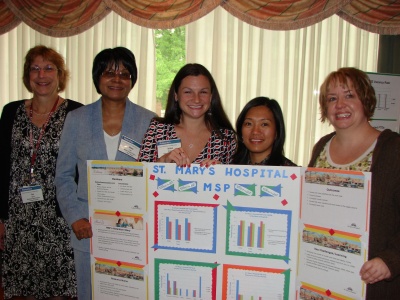 Six nurses from St. Mary's Hospital presented at the statewide Nurse Retention Collaborative Congress, one of only four teams selected to present out of twenty-eight teams. (Submitted photo)
LEONARDTOWN, Md. (June 13, 2009)—As more and more nurses reach retirement age, retention is crucial. Nurse turnover is a constant problem - in 2006, Maryland hospitals' registered nurse turnover rate was 12.7 percent, according to the Maryland Hospital Association (MHA). Furthermore, within the next six years, as existing nurses retire, many more experienced nurses will leave the profession than will enter it.
St. Mary's Hospital has been working with the MHA and the Delmarva Foundation, Maryland and Washington, D.C.'s Medicare quality improvement organization, to enhance nurse retention. Six St. Mary's Hospital nurses presented their retention ideas at the Nurse Retention Collaborative Congress on June 4 in Howard County, Maryland, one of only four teams selected to present out of twenty-eight teams.
The Nurse Retention Collaborative is a cooperative effort of selected Maryland hospitals to help increase staff nurse retention to 95 percent per year. The collaborative, initiated in December 2007, helped hospitals identify ways to reduce staff nurse turnover on hospital-based patient care units. Twenty-eight teams from 19 hospitals, including St. Mary's, participated in the effort. Throughout the venture, MHA oversaw the projects for consistency and offered guidance with proven retention strategies. Meetings with subject matter experts were also held throughout the year to advise the teams.
The St. Mary's Hospital team includes nurses Ann Byrne, Cathy Maidl, Kristen McVerry, Carina Morrison, Brittany Salmon and Juliana Tyer, most of whom work on the Medical/Surgical/Pediatric Unit. This unit had high turnover rates, mostly due to nurses moving to specialty practice nursing and staff nurse wishes for better clinical support while working, said MaryLou Watson, Vice President for Nursing. To solve this problem, the group implemented three strategies:
-- Instituting shift huddles to update nurses on patients;
-- Appointing a resource nurse to support the staff nurse; and
-- Improving morale through such actions as sending personal kudos letters from the unit's director and creating a birthday board.
The team's efforts have been wholly successful - since starting the collaborative last March, no new registered nurses from June 2008 or January 2009 have resigned or requested a transfer, agency nurse use has completely stopped, and there are zero nurse vacancies on the unit.
This retention collaborative with MHA and Delmarva is nothing new. In the last few years, the MHA's and Delmarva's collaborative ventures have focused on improving other clinical issues such as standards of practice in the intensive care units and neonatal nurseries.
Source: St. Mary's Hospital