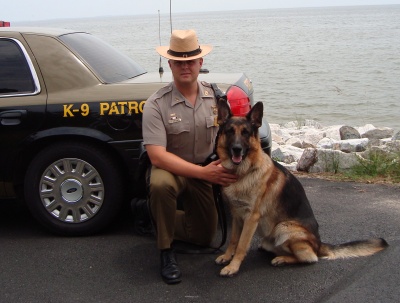 K9 Siko and his partner TFC Jason Wiersma are assigned to the Maryland State Police, Prince Frederick Barrack. (Submitted photo)
(June 13, 2009)—State police have added two K9's to their arsenal which will be used in law enforcement and search and rescue in Southern Maryland. K9 Siko has teamed up with TFC Jason Wiersma at the Maryland State Police Prince Frederick Barrack and K9 Ruddy has joined Maryland Natural Resources Police (NRP) Officer Tim Pheabus, also assigned to Calvert County.
On June 5, TFC Wiersma and Siko graduated from a 14-week drug detection course which was conducted by the Maryland State Police in Howard County at the MSP K9 training facility. TFC Wiersma and K9 Siko will provide assistance to other troopers in the Southern Maryland area, as well as officers from allied agencies. The new team augments TFC M. Murphy and K9 Remington at the Prince Frederick Barrack.
On May 8, NRP Officer Pheabus and K-9 partner Ruddy graduated from the Kentucky Department of Fish & Wildlife Resources ten-week canine academy. The team was certified in human tracking, article recovery, and wildlife detection. They will be able to assist in searches for overdue or lost persons throughout Maryland's public and private lands.
NRP officials say the team will also enhance the protection of Maryland's natural resources by detecting illegal obtained wildlife and assisting in recovering evidence that was discarded in the commission of a crime.
While Officer Pheabus and Ruddy are assigned to Calvert County, they will support NRP's Southern Region, which encompasses Anne Arundel, Prince George's, Calvert, Charles and St. Mary's Counties.
The addition of Officer Pheabus and Ruddy brings the total number of canine units that are assigned to the Natural Resources Police to five. One K-9 unit is assigned to each of the four regions in the state. All of these units possess the ability to track humans and detect wildlife and evidence. The fifth canine unit is a state wide unit that has ability to detect live scent and human remains in both land and aquatic environments.