Paper Also Awarded Best Sports Photo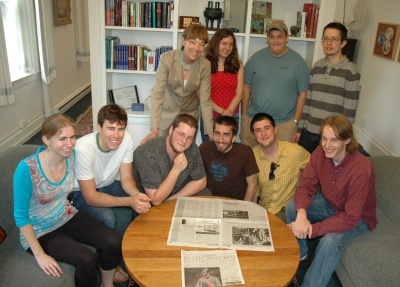 St. Mary's College of Maryland's Point News staff admire their handiwork alongside president Jane Margaret O'Brien. The American Scholastic Press Association awarded the student paper with a first place with special merit award and best sports photo for junior Matt Molek's photo of SMCM men's basketball player Camontae Griffin '11. First row, left to right: Lara Southgate '11, of Baltimore, Md.; Brendan O'Hara '10, of Prince Frederick, Md.; Kyle Jernigan '11, of Germantown, Md.; Peter Sparklin '11, of Baltimore, Md.; editor-in-chief Justin Perry '10, of Pitman, NJ; best sports photo winner Matt Molek '10, of Olney, Md.; O'Brien; Caroline Selle '12, of Severna Park, Md.; David Chase '12, of Marstons Mills, Ma.; and Rowan Copley '11, of Hagerstown, Md. (Submitted photo)
ST. MARY'S CITY, Md. (June 12, 2009) – The Point News, the student newspaper at St. Mary's College of Maryland (SMCM), won first place with special merit in the American Scholastic Press Association's (ASPA) annual newspaper competition. The paper was also awarded the Best Sports Photo for junior Matt Molek's photo of SMCM men's basketball player Camontae Griffin '11. This is the third consecutive year that the student newspaper has received high honors.
"I'm immensely proud of the entire Point News staff for their hard work this year," said Justin Perry, editor-in-chief. "Without our editors, there would be no newspaper and there would absolutely be no award. I'm also proud of Matt Molek, whose professional-quality photography was recognized with his own award. This year at The Point News was a stressful one, at times, but I'm always proud when the finished product hits the newsstands and I'm incredibly happy that a national organization such as the ASPA recognized our staff's talent and hard work."
In 2007 and 2008, The Point News also won first place in the competition. Approximately 2,000 scholastic yearbooks, magazines, and newspapers are judged each year.