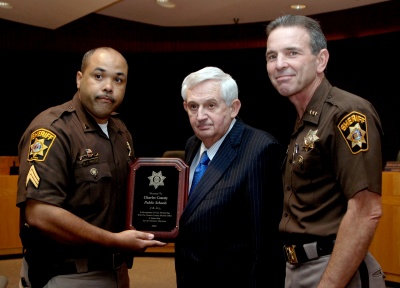 Sgt. Gus Proctor (left), who coordinates the Sheriff's Office's Special Olympics fundraisers, and Sheriff Rex Coffey (right) present a plaque to Superintendent James Richmond in honor of the funds raised by the school system for Special Olympics. (Photo: Submitted photo)
LA PLATA, Md. (June 8, 2009)—Not only has the Charles County Sheriff's Office raised more money for Special Olympics Maryland than any other police agency in the state, so has Charles County Public Schools (CCPS).
The schools contributed about $8,000 of the nearly $25,000 the Sheriff's Office raised for Special Olympics Maryland in 2008. That contribution alone is more than the total contribution of any of the other 84 participating police agencies last year.
Sheriff Rex Coffey and Sgt. Gus Proctor, who coordinates the Sheriff's Office's Special Olympics fundraisers, presented a plaque to Superintendent James Richmond at a principals meeting May 13, recognizing the schools for this notable achievement and thanking them for their enthusiastic participation the fundraising efforts.
"We take pride in being the top police agency in fundraising, not because we think it's a competition but because we know we are helping a tremendously inspirational organization," said Sheriff Coffey. "We are very grateful to the principals who allow us to come into their schools and involve their students and staff in our fundraising campaigns. They do it not because they have to but because they care."
Including the Sheriff's Office's donation, Special Olympics Maryland raised $3.9 million for its athletes in 2008, making the state the top Special Olympics fund-raiser in the world.
Much of the Sheriff's Office's total donation in 2008 — $19,000, of it — was raised through the sale of T-shirts and hats for the annual Law Enforcement Torch Run. For the last two years, the Sheriff's Office has been recognized as the top fundraising agency in T-shirt and hat sales and both years CCPS was the fundraiser's top contributor.
The Torch Run, which helps carry the Flame of Hope through Maryland to the opening ceremony of the summer games, was held this year on June 4.