SMCM Beats Yale and Georgetown Teams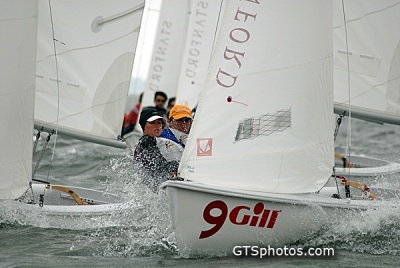 In the last race, St. Mary's College of Maryland skipper Michael Menninger and crew Kelly Wilbur beat Yale to win the 2009 ICSA/GILL National Sailing Championship. (Photo: GTSphotos.com)
ST. MARY'S CITY, Md. (June 4, 2009) – Yesterday, St. Mary's College of Maryland (SMCM) won the 2009 ICSA/GILL Co-ed National Dinghy Sailing Championship in San Francisco, the Superbowl of intercollegiate sailing. This marks the third time in program history that SMCM has captured the Co-ed Dinghy National Championship. Yale University came in second, followed by Georgetown University.
All the pieces were in place for the exciting finale to determine the National Championship on San Francisco Bay. SMCM had to beat Yale in both final races to win the championship. Warmer air and sea conditions, good breeze, and a close contest between frontrunners SMCM and Yale made for an impressive race. When all was said and done, after 36 races over three days with 123 sailors from the most competitive 18 schools in the nation, the St. Mary's Seahawks won the title yet again.
St. Mary's sophomore skipper Michael Menninger (Newport Beach, Ca.) and crew took first place in B Division to lift SMCM to the overall victory at the championship. With the breeze gusting into the 20s, Menninger and senior crew Jennifer Chamberlain (Alexandria, Va.) posted a 6-1 to the 14-16 of Yale, earning St. Mary's the win by 20 points over Yale. Yale was the overall runner-up behind SMCM with the final margin being 20 points. Skipper Jesse Kirkland (Warwick, Bermuda) and crew placed second in A Division for the Seahawks, who totaled 177 points as compared to 199 for Yale.
"It was a little too exciting for the coaches," said St. Mary's coach, Adam Werblow, joking that his heart had to be restarted a few times. "Our B-Division team had a rough start in the second-to-last race, but then won the start in the last race had a clear lane and were able to go fast. Yale battled really hard. We thought we could hang with them in A and beat them in B. We were blessed. We brought seven, all seven sailed and they worked really hard, prepared for this venue and did enough right to win."
"As soon as the races started, since it was so windy, you're zoned in on hiking or going downwind," Yale's Thomas Barrows '10 said of the racing. "It was a lot of fun, especially coming down to the last race competing with St. Mary's. Even though we didn't win, it's fun to have such great competition."
St. Mary's College has a long history of sailing championships. In 2007, the Lady Seahawks Sailing Team won the 2007 Intercollegiate Sailing Association (ICSA) Women's National Championship, in Norfolk, Virginia. Since 1991, the College has won 11 national sailing championships and produced more than 100 ICSA All-American sailors.
In the ICSA/Gill National Championship each school fields a separate A and B division team with, weather permitting, each division sailing 20- to 30-minute fleet races in rotation. A team's final score is determined by the combined results of its sailors in A and B divisions. Stanford University co-hosted the championship with St. Francis Yacht Club, with racing taking place from the club utilizing Stanford's fleet of FJs.
Noted sailing commentator and SMCM board of trustee member Gary Jobson will produce a program on the ICSA/Gill National Championship for ESPNU set to air Saturday, June 20 at 3:00 p.m. and Wednesday, July 1 at 3:00 a.m. Complete results are available at
http://www.collegesailing.org/nas/spring09/coedresults.asp