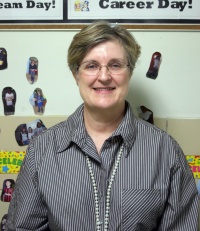 Janet Jones, of General Smallwood Middle School in Indian Head, is the 2009 Charles County Teacher of the Year. (Submitted photo)
LA PLATA, Md. (June 2, 2009)—Janet Jones was born into a home that nurtured and valued education. Some of her earliest childhood photographs show her "teaching" her father, who played along by sitting in an old school house desk. As a child, Jones also taught her brother and his friends in a makeshift school room in her basement. "I can't remember a time when I did not value learning," Jones said.
Jones, a 33-year veteran educator and reading resource teacher at General Smallwood Middle School in Indian Head, has come a long way from her childhood makeshift classroom. She says throughout her career, she has never lost the desire to watch students grasp new ideas, play with language and own their literacy. Her experience and desire to teach and instill children with a love for reading earned Jones the 2009 Charles County Public Schools Teacher of the Year award.
When Superintendent James E. Richmond visited Smallwood last week to announce her as the award winner, Jones said she thought she had been called into a regular meeting with her principal and other school staff. "I thought maybe the school received a grant. I was truly and totally surprised, but I am glad that it was a surprise," she said.
Jones was encouraged to apply for the award by Smallwood Principal Cynthia Baker and Vice Principal Kathy Perriello. "Jones is energetic, innovative and enthusiastic and is doing a fantastic job. She creates a hunger in all staff to read and to share their readings and learning with others," Baker said in a nomination statement.
Jones said the process was intense, but beneficial to her because it required her to re-examine her career. "It is a very reflecting and satisfying experience to go through this process. It brought up memories of past teaching experiences and positives with students over the years. No matter how long I teach, I continue to strive to learn how to reach one more student," Jones said.
Jareika Swann, an eighth-grade student at Smallwood, is an example of a student whose life Jones has made an impact. Swann has worked with Jones since she started at Smallwood in the sixth grade. Swann credits Jones with instilling her with an excitement and passion for reading.
"As a sixth grader, I disliked books and reading. Now, I enjoy reading. This is all because of Mrs. Jones. She would work with me on vocabulary and she taught me strategies [to use] for before, during and after reading. I now feel confident in myself and my reading ability. Every child should have a Mrs. Jones," Swann said.
Beyond the classroom, Jones is a consultant with the National Writing Project and is a member of the National Assessment of Educational Progress reading committee. She is also involved in local, state and national reading associations, including the Southern Maryland and State of Maryland Reading Councils, and the International Reading Association.
Her desire to instill a love for reading does not stop with her students. Earlier this year she launched a "One Book, One Smallwood" reading initiative to encourage staff to read and discuss books together. Her goal is to expand the program into the local community. "Reading, and talking about reading, should not be locked away in our classrooms when the bell sounds. It belongs in the larger community," Jones said.
Jones also enjoys working with and training other teachers in reading and writing strategies and interventions. In the past three years, Jones has trained eight non tenured language arts teachers and created lesson plans to help the teachers become accustomed to teaching required curriculum. She said she loves to work with teachers who share her passion and excitement for teaching.
"As a resource teacher, I also support educators to grow in their learning and to find their own style of teaching. Learning grows when it is shared and I believe that my strength is creating learning communities through rich discussion and support," Jones said.
Baker said Jones is most noted in the school and recognized daily for her ability to encourage, engage and challenge both students and staff. "She consistently works with teachers in the areas of writing to learn in content areas. She is an exemplary master teacher and a teacher of teachers," Baker said.
Jones earned her Bachelor of Science degree in elementary and special education from the George Peabody College for Teachers in 1976, and her Masters of Education from the University of Maryland, College Park in 1991.
As Charles County's Teacher of the Year, Jones will compete for the Maryland Teacher of the Year award, which will be announced in the fall. The state winner receives a cash award, the use of a new car for one year, and will be considered for the National Teacher of the Year honor.