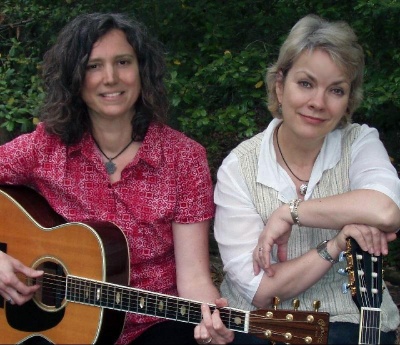 Grace Griffith and Lynn Hollyfield will perform their distinctive music in Indian Head Saturday, 8 p.m. at the Black Box Theatre. (Submitted photo)
INDIAN HEAD, Md. (June 2, 2009)—Grace Griffith and Lynn Hollyfield, two gifted local musicians, are scheduled to perform at the Black Box Theatre in Indian Head Saturday at 8 p.m. Both Griffith and Hollyfield reside in Accokeek.
Griffith, a veteran performer and recording artist has won multiple WAMMIEs (Washington Area Music Awards)—named "Best Traditional Folk Vocalist" in February 2009. She was raised in Bryans Road and resides in Accokeek with her husband. Her noteworthy performing career has taken her to the U.S. West Coast, Scotland and Canada, and her recordings on the Blix Street Record label are played on radio stations as nearby as 105.9 (Smooth Jazz) and as far away as Taiwan.
Griffith is a respected interpreter of contemporary songwriters' works and a collector of traditional Appalachian, Irish, and Scottish repertory. In more recent years Grace's performing career has been limited by the effects of Parkinson's Disease, so this concert is a bit of a rarity.
Hollyfield hails originally from New York but migrated to settle in Accokeek with her husband and two daughters. She is a talented and prolific songwriter in addition to being a fine guitarist and mandolin player. Hollyfield will be known to some as half of the ersatz duo Hollyfield & Spruill, who released 2 CDs and with whom Lynn honed her distinctive singing style and, in particular, her remarkable ear for harmony.
Lynn's self-penned songs stand up well if compared to the best among current folk songwriters, with an emotional intensity reminiscent of Sarah McLachlan or Roseanne Cash, set in melodies that easily catch a listener's attention and hold it in one's ear long after the song is done. Lynn is currently working on her first solo recording project.
Together Grace and Lynn create a sweet acoustic sound with repertoire that runs the gamut from traditional British Isles ballads to original songs of experience, with just enough humor to top it off.
Tickets are $10 for all seats and can be
purchased online
. the Black Box Theatre is located at 4185 Indian Head Highway, in Indian Head, Md. 20604. Visit
http://IndianHeadBlackBox.org/
for more info.
For more information about Grace Griffith and Lynn Hollyfield, visit
http://www.seamaid.org/grace/
and
http://lynnhollyfield.com/
respectively.