LA PLATA, Md. (June 2, 2009) - The Charles County Sheriff's Office today released the following incident and arrest reports.
HELP NEEDED IDENTIFYING ROBBERY SUSPECT: The Charles County Sheriff's Office is seeking the identity of a man who stole jewelry from a Macy's department store on Mall Circle Drive in Waldorf. On May 28 at 9 p.m., a man wearing a suit and sunglasses entered the store and asked to look at diamond rings. After a few minutes, the man left. At 9:25 p.m., he returned to the diamond ring display and asked to see several rings at one time. When the clerk refused to remove more than one ring, the man said he had a gun and demanded the clerk put all the rings in a bag. The clerk complied and the man attempted to leave the store. A manager attempted to stop the suspect at which time he displayed a handgun and fled.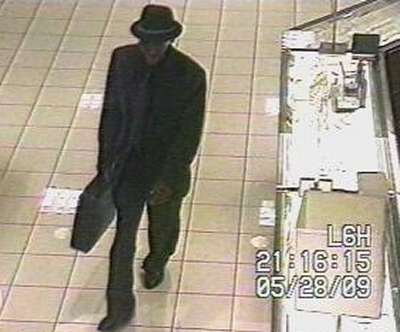 The suspect is described as a black male, about 5'4", with a slim build. At the time of the robbery, he was wearing a gray suit, brimmed hat, and sunglasses. Anyone with information is asked to call Detective B. Buchanan at (301) 609-6477. Callers wishing to remain anonymous may call Crime Solvers at 1-866-411-TIPS. Charles County Crime Solvers is offering a cash reward of up to $1,000 for the tip that leads to the arrest and indictment of the suspect.
BURGLARY: On June 1 between 9:20 a.m. - 3:30 p.m., unknown suspects broke into a house in the 6500 block of Alopex Court in Waldorf and stole electronics and jewelry. The scene was processed for evidence. Officer R. Forbes is investigating.
MAN CHARGED WITH DUI: On May 31 at 2 a.m., Charles County Sheriff's officers received a call for an intoxicated driver operating a motorcycle on Crain Highway near Marshall's Corner Road in White Plains. Officers observed the motorcycle and initiated a traffic stop. The driver refused to pull over and fled to Mitchell Road where he eventually stopped. The driver, Michael Steven Varnadore, 33, of Bryans Road, was arrested and charged with multiple traffic violations including driving under the influence and fleeing and eluding. Officer D. Brady made the arrest.
BREAKING AND ENTERING/ VANDALISM: On May 30 at 12:53 a.m., unknown suspects broke out the front door of Palm Beach Tan located at 3056 Waldorf Market Place in Waldorf. The suspects entered the business and exited through a rear door. Nothing appeared to have been stolen. The scene was processed for evidence. Officer J. Riffe is investigating.