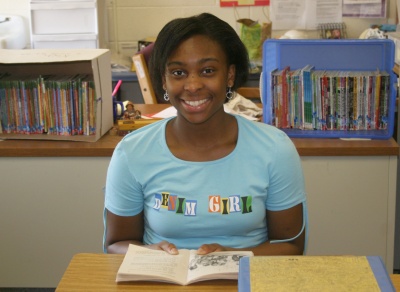 Charles County eighth grader Kiauna Freeman was one of six Md. students selected as a 2009 Women of Tomorrow award winner. (Submitted photo)
LA PLATA, Md. (May 26, 2009)—The Maryland Commission for Women recognized Matthew Henson Middle School eighth grader Kiauna Freeman on May 13 as one of six Maryland students selected as 2009 Women of Tomorrow award winners.
Freeman was honored with the first place seventh- and eighth-grade Women of Tomorrow award. She was nominated for the award by Heather McKeown, a mathematics teacher at Henson. The program honors girls who are outstanding students and members of their communities.
McKeown said she nominated Freeman for the award because she is a model student. "She has a superior work ethic, models excellent behavior and encourages all of her fellow classmates to do the same. She is an intelligent young lady that is committed to her school and community. She is a phenomenal student and exemplifies all of the qualities a Woman of Tomorrow should have," McKeown said.
Winners are honored in three different grade groupings: grades seven through eight, grades 9 through 10, and grades 11 through 12. Two honorees are selected per grade group, one first-place winner and one honorable-mention winner.
The program is sponsored by the Maryland Department of Human Resources, Maryland Commission for Women and the Maryland State Department of Education. A committee consisting of the members of the sponsoring organizations selects the award finalists.
The Women of Tomorrow Awards program was established in 1997 to honor and acknowledge extraordinary young women who demonstrate academic excellence and a commitment to community.