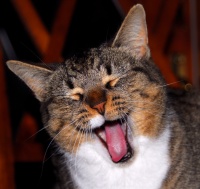 Kittie MauMau, a/k/a "Stinky Butt," one of somd.com's four felines says, "June is Adopt A Cat Month. Save a life and receive years of love in return." MauMau was an adopted stray.
HUGHESVILLE, Md. (May 26, 2009)—June is Adopt-A-Cat Month and the folks at the Tri-County Animal Shelter in Hughesville are going all out to find homes for the area's homeless felines. In addition to reducing adoption fees for the month, the shelter will hold a special baby shower on Saturday, June 27, from 10 a.m. - 3 p.m. to promote adoptions, and donations for supplies for the cats who do not immediately find a home.
The shelter will accept donations of kitten food, kitty milk, soft blankets, and toys. All of these items will help to ensure that the kittens have a nice stay at the shelter while they wait to be adopted.
In recognition of Adopt-A-Cat Month the regular cat and kitten adoption fee has been reduced to $45 for the month. Unlike kittens offered for "free," cats and kittens adopted from the Tri-County Animal Shelter are spayed/neutered, tested for feline leukemia, and given a physical by a veterinarian to assure they are healthy before they go home with their new owners.
For more information about the baby shower, items accepted for donation, how to adopt a new pet, or how to volunteer your time at the shelter, please call 301-932-1713 or 1-800-903-1992, or visit the Tri-County Animal Shelter web site at
http://www.charlescounty.org/es/animalcontrol/
.
The Tri-County Animal Shelter is located at 6707 Animal Shelter Road in Hughesville.
The shelter serves Calvert, Charles and St. Mary's counties. It is operating by the Charles County government with some funding being provided by the Calvert and St. Mary's County governments.