By Andy Marquis, RacingForTheWin.com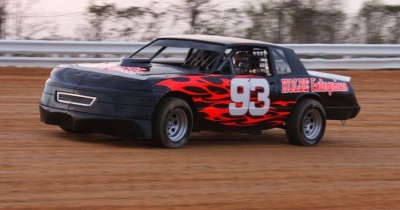 Rusty Alton's car, No. 93, making a round on the track. Alton runs a trucking company out of Waldorf. (Photo: Ant-1Photography.com)
WALDORF, Md. (May 25, 1009)—Rusty Alton grew up in Waldorf. He still resides in the area and runs his trucking company out of Waldorf. Over the years he has raced dirt bikes, four-wheelers, open-wheel modifieds, sprints and even trucks. Now, he races under the lights on Friday nights at Potomac Speedway.
In 1985, Rusty began racing dirt bikes and four-wheelers as a teenager at Budds Creek. He's been hooked on the racing "drug" ever since. After watching a race at Potomac Speedway, he was hooked on car racing. He subsequently purchased a semi-late model and began racing at Potomac in 1987. He raced endure and many other classes at Potomac through 1992.
In 1992, Rusty joined Jerry Hill's team as a crew member and was exposed to the life of asphalt racing in the NASCAR Winston Cup Series and the ARCA Hooters Cup Series. With the knowledge he received working for Hill, he decided to go to the Buck Baker Racing School. Alton learned how to race on asphalt and began racing Late Model stock cars at historic Hickory Motor Speedway in North Carolina.
In 2004, Rusty ran in the NASCAR Camping World Truck Series race at Martinsville, but blew a motor early. Despite not having success in the series, Alton says it's his favorite series.
"I just like to show off," Rusty joked. And when his car is in form and he is in form, that's exactly what he does.
Rusty has six career wins in the past two seasons at Potomac Speedway. He is a dedicated racer, and his family is also dedicated. His children (Dillon, 7 and Tyler, 8) are with him every week at the racetrack. His pit crew members are all volunteers. And when he's not working his day job, he's working on his race car.
Rusty currently races in the Hobby Stock class at Potomac Speedway. He drives car No. 93 and is well in contention for the speedway championship with 3 wins in 2009. Kolbe Enterprises, Windsor Enterprises, and Winters Chiropractic & Physical Therapy all sponsor his black Chevy Monte Carlo.