By 1LT Don Van Wormer, CAP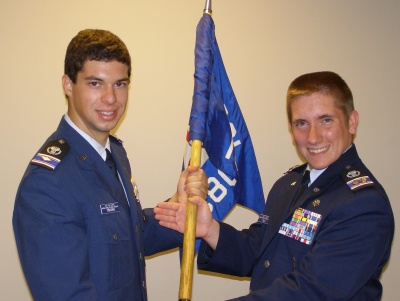 Incoming St. Mary's Civil Air Patrol cadet commander Cadet Major Victor Traven (left) accepts the squadron flag from outgoing cadet commander Cadet Lt. Col. David Trick. (Submitted photo)
(Dec. 25, 2008)—In recent ceremonies, the leadership of the St. Mary's Civil Air Patrol Composite squadron changed commanders. Command of the squadron passed from Lt. Col. Tim Corrigan to 1st Lt. David Webster. Lt. Col. Corrigan moves to a new assignment as the CAP Maryland Wing Legal Officer.
First Lt. Webster assumes his new role as squadron commander after serving as the Deputy Commander of Seniors and Deputy Commander of Cadets.
Cadet Lt. Col. David Trick passed command of the cadets to Cadet Major Victor Traven. Cadet Traven had previously served as the Cadet Deputy Commander.
Civil Air Patrol, the official auxiliary of the U.S. Air Force, is a nonprofit organization with more than 56,000 members nationwide.
The St. Mary's Composite Squadron meets Wednesday evenings from 7-9 p.m. at the St. Mary's County Regional Airport, in the Capt. Walter Francis Duke terminal building, 44200 Airport Road, in California, Md. For more information, visit the squadron's web site at
http://www.capstmarys.com/
.