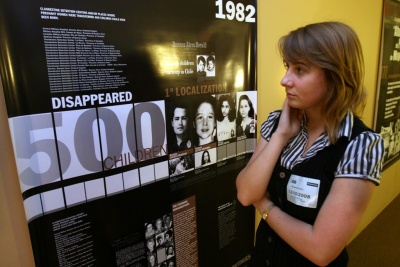 St. Mary's College of Maryland student Olivia Williams ('09) of McClellanville, S.C., reads the names of some of the 500 children abducted in Argentina from 1976 to 1983 at an event organized by the Argentine Embassy in Washington, where SMCM students learned about the Grandmothers of Plaza de Mayo, an organization working to return children who disappeared during the country's military dictatorship to their families. (Submitted photo)
ST. MARY'S CITY, Md. (Dec. 25, 2008)—Argentina's "Dirty War" occurred more than 30 years ago, yet the grandmothers of that country's "disappeared" remain relentless in the search for their children's children, an estimated 500 of whom vanished at the hands of military dictators. St. Mary's College of Maryland (SMCM) students attending an event this month in Washington, organized by the Argentine Embassy, learned about this tragic period in Argentina's history at an exhibition, the title of which tells the story-"Grandmothers of Plaza de Mayo: Grandmothers of the children who were abducted as a method of political repression and never restored to their legitimate families."
The exhibit was held at the Inter-American Development Bank (IDB), where students viewed photos of the faces of those abducted and listened to a presentation by Grandmother Estela Carlotto, president of the organization. She is one of the grandmothers whose dedication has resulted in the return to their families of 95 of the missing grandchildren.
Carlotto addressed the students directly, telling them not to forget what happened to her family; not to let any violation of human rights happen again, anywhere.
Argentine Ambassador to the United States Héctor Timerman and IDB President Luis Alberto Moreno welcomed the SMCM students and their Gender in Latin American History professor, Dr. Adriana M. Brodsky, to a round table on human rights in Argentina that was held in conjunction with the exhibition.
"To hear the ambassador of Argentina state that the military dictatorship was brought down in part because of the unceasing efforts of mothers and wives in Latin American who belonged to seemingly innocent, a-political, grassroots human rights organizations like the Grandmothers' made a lot of sense to the students," said Brodsky. "To listen to Estela Carlotto's story of unimaginable pain-but great determination-and hope was a wonderful lesson to all of us."
Between 1976 and 1983, it is estimated that 30,000 men and women were abducted under the Argentine dictatorship. Human rights organizations have estimated that some 500 children of these disappeared persons were born in captivity and illegally given up for adoption after their parents were murdered. Most of the children remain unaware of their true identities even today, according to human rights organizations.
Carlotto explained during her presentation that Argentine President Cristina Kirchner supports finding these victims and punishing those who are keeping the children from learning their identities.
In 1977, the non-governmental organization Grandmothers of Plaza de Mayo was established to fight for the return to their families of abducted grandchildren or those who were born in captivity. Members relentlessly investigated their children's and grandchildren's disappearances, in hopes of finding them. As mothers, their search remains two-fold. They demand the return of their grandchildren while simultaneously searching for these children's parents-the grandmothers' own sons and daughters.
Grandmothers of Plaza de Mayo (Abuelas de Plaza de Mayo) takes its name from the main square in downtown Buenos Aires, where for years the mothers and grandmothers of those kidnapped and killed have demonstrated for justice in their search for information on missing loved ones.
As of August 2004, the organization had recorded more than 400 children as missing. According to the Grandmothers of Plaza de Mayo, it has now been determined that approximately 500 children were abducted from 1976 to 1983. In many cases, relatives did not report the kidnappings out of fear and ignorance. The organization's demand is that the children who were kidnapped as a method of political repression be restored to their legitimate families.
"We were learning in class about the group being honored by the event, and it was great to actually see the president of the organization. I enjoyed hearing the panel members speak about democracy in Argentina in light of the great social inequality there because I think economic equality and political efficacy are things we need to be concerned about. It inspired me to continue with my studies of Latin America, and fight for social justice on the college campus and in my community at large," said SMCM student Tess Wier ('11) of Columbia, Maryland.
"I'm sure the students will remember this visit for a long time," said Brodsky.
RELATED INFORMATION:
Info about Abuelas de Plaza de Mayo
http://www.abuelas.org.ar/english/history.htm
Argentine Dirty War
http://en.wikipedia.org/wiki/Dirty_War