By JAMES K. SANBORN, Capital News Service/Maryland Newsline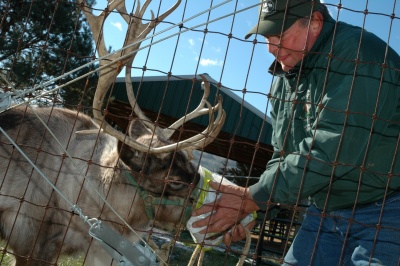 Brian Adelhardt feeds treats to Spruce, one of two reindeer on his farm. (Photo by Maryland Newsline's James K. Sanborn)
WHITEFORD, Md. (Dec. 22, 2008)—"Hi, reindeer. Hi, Rudolph," one child excitedly yelled as he was driven past two penned reindeer on a recent visit to Applewood Farm.
Millie and Spruce, the farm's reindeer, are often mistaken for their more famous "cousins."
The two are an important part of farm owner Brian Adelhardt's mission to spread Christmas cheer from late November through late December.
"Reindeer are the intersection of fantasy and reality," Adelhardt said. "They're cool, because they're something from Christmas magic that you can touch."
Adelhardt said he can keep the reindeer even though they are outlawed in Maryland because seven acres of his farm sprawl into Pennsylvania.
Sam Crach of Bel Air came recently to see the reindeer with her husband, Jeff, and their children Lisa, 4, and Max, 1. She said the experience was a refreshing break from Santa pictures at the mall.
"It seems more authentic," Crach said. "I think it makes Christmas more real."
Stacey Grimm of Jarrettsville agreed. "It brings the miracle of Christmas back to the kids," she said.
Her son, Zachary, 5, said he was most intrigued by the reindeer's "huge antlers, and when they peed."
Sean Grimm, her husband, said the farm visit has become a family tradition. They have come five years running, he said, and look forward to it more each time.
Adelhardt bought the farm, tucked among the bucolic hills of northern Maryland, in 1974 to raise beef cattle. But everything changed after he planted a few evergreen trees.
At first, a few friends asked if they could buy them as Christmas trees. As word spread, Adelhardt gained more customers and decided to go into the tree business.
To draw clients, he added attractions. What started with antique model trains in his barn grew into pony and hay rides, then a petting zoo, a narrow gauge train, a Christmas light display and finally, reindeer.
His farm eventually turned into a quasi-amusement park that now draws about 10,000 visitors a year.
It's a place where many children who are beginning to doubt some of Christmas' more fanciful tales have their faith restored, Adelhardt said.
"Once they touch something real—a living, breathing reindeer—they figure that if reindeer are real, maybe the rest is, too," he said.
Each time Adelhardt removes Millie from her pen for petting, he calms parents with a tinge of humor. "About the worst that could happen is she could poop on you, but that's not really a problem because they really just poop raisins," he said. Raisins are a favorite part of the reindeer diet at the farm.
"Or she could pee on you, but I wouldn't worry, because I think I've heard something about reindeer pee, Christmas and good luck."
Adelhardt gets a slew of quirky questions from children.
"Can they fly?" is the most common.
He always answers with an emphatic yes and says it's no lie.
Reindeer are amazingly acrobatic, he said, and could even clear their 6-foot enclosure, but the lure of raisins seems to keep them in place.
Although Adelhardt bought reindeer to draw crowds, he said he has a genuine passion for them.
"To me, they're kind of like living characters," he said. "They have huge horns, a relatively big head for their body, spindly legs that look too small, and when the wind blows, they do acrobatics."
He said his love for reindeer was cemented on a 1999 trip to Alaska when he volunteered to help the University of Alaska with its annual reindeer roundup.
"That trip was one of the neatest things I had ever done," he said. "There was a personal connection."
Adelhardt said the ship Revenue Cutter Bear brought the first reindeer to North America in the 1890s to help feed Alaska's population. A domesticated cousin of the North American caribou, reindeer are native to Northern Europe and Siberia.
Now, in an effort to infect others with his enthusiasm for reindeer, Adelhardt holds a fact-filled, comedy-laced educational show six times a weekend.
To conserve heat, for example, Adelhardt said reindeer can cut off blood flow to their legs. Because their legs are mostly tendons and ligaments, they don't get cramps.
"So I always remind people if you are getting in bed with a reindeer, make sure they keep their feet on their side of the bed," Adelhardt said.
For Adelhardt, his farm is about much more than business.
"We aren't just a Christmas tree farm," he said. "We are about families. I tell people if they are just looking to buy a Christmas tree, go somewhere closer.
"We have a lot for a family to do. We say come here, do all the fun stuff, and if along the way you find a tree, great!"