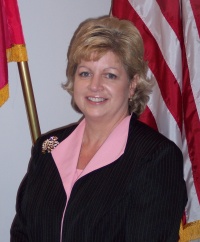 LEONARDTOWN, Md. (Dec. 22, 2008)—On Friday, Dec. 12, members of the Chesapeake Region Law Enforcement Accreditation Alliance (CRLEAA) unanimously elected Pamela McKay to be the president of the regional organization. McKay is the accreditation manager for the St. Mary's County Sheriff's Office and has served the agency since 2007.
CRLEAA is a not-for-profit organization formed in the 1980's as a network of law enforcement professionals supporting agency accreditation efforts. Currently, there are fifty member agencies in CRLEAA from Maryland, Virginia, Delaware and Washington, DC law enforcement agencies.
McKay says she will focus on increasing training opportunities to the region and supporting fellow agencies in their quest for professional accreditation.
The Sheriff's Office received their initial CALEA Accreditation in July 2007. The agency is currently in a self-assessment phase, managed by McKay, in an effort to ensure the agency's policy and procedures reflect international best practices and maintain their professional standing. The Sheriff's Office is scheduled for re-assessment in April 2010.