Bike Donated for Indian Head Rail Trail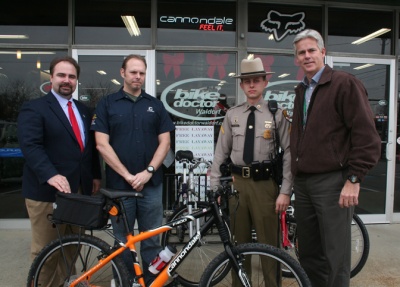 The Bike Doctor of Waldorf and MD State Trooper Joe Wilson donate a Cannondale Mountain Bike to be used for patrol on the County's new Indian Head Rail Trail. The bike is fully accessorized and comes with a lifetime service agreement. Pictured (from left) are Paul Comfort - County Administrator, Chris Richardson - Bike Doctor's Owner, Trooper Joe Wilson and Tom Roland - Chief of Parks & Recreation.
State Football Champs Huddle With the Commissioners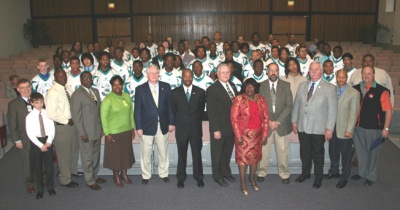 The Westlake High School football team is joined by representatives from the Charles County Public Schools and the Charles County Commissioners on December 10, 2008, as they are honored for their win of the 2008 Class 3A State Football Championship.
The Charles County Commissioners recently joined in celebrating with the mighty Wolverines football team of Westlake High School as they claimed the 2008 Class 3A State Football Championship over the Wilde Lake Wildecats in a December 4 game at M & T Bank Stadium in Baltimore.
Coach Dominic Zacarelli praised his team for their diligent work ethics, and their ability to overcome problems to become true champions. "You all are fine, intelligent young men." he said.
Commissioner President Wayne Cooper told the group of gridiron greats that he knew they were tough because of the team's name. "A wolverine is a ferocious animal that will put up a fight if you mess with them. That fighting spirit on the field led you to the championship," Cooper added.
Each team member, the coaches and staff were given a printed citation from the Commissioners, and a 350th Anniversary souvenir coin.
Congressman Hoyer Salutes Bobbie Baldus
Civic Leader Cited for Her Work on the Charles County 350th Anniversary Celebration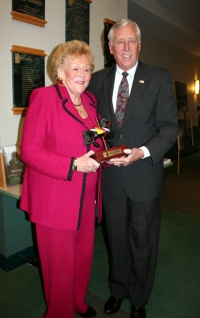 The Honorable Steny Hoyer (Majority Leader, U.S. House of Representatives, 5th District) is joined by the Charles County Commissioners in saluting the outstanding efforts of Bobbie Baldus and her committee for planning and initiating a series of year-long events that focused on the 350-year history of Charles County, Maryland.
Baldus, members of the Smallwood Foundation, the Charles County Heritage Commission, the staff and faculty of the College of Southern Maryland, and several local historical societies were all recognized at a CSM lecture series which celebrated the release of
Pathways To History: Charles County Maryland, 1658-2008
, a 400-page hardcover book with more than 370 illustrations depicting the history of Charles County from its earliest beginnings to present day.
Pathways To History
was published under the auspices of the Smallwood Foundation, Inc. The non-profit organization was formed in 1938 to restore the Charles County home of General William Smallwood, Maryland's highest ranking Revolutionary officer. All proceeds from the sale of the book are pledged to fund research, restoration, preservation and appreciation of Charles County history.
Pathways To History
is available at the CSM bookstore and all local Border's Bookstores. For more information, call 301-934-7703.
North Point Eagles Are Better Than 'Par' for the Course
The Charles County Commissioners join representatives from the Charles County Public Schools and the North Point Golf Team on December 10, 2008, to celebrate the team's capture of the Maryland Class 2A/1A State Golf Championship.
The Charles County Commissioners recently saluted North Point High School Coach Tony Jones and the Eagles Golf Team as winners of the Maryland Class 2A/1A State Golf Championship. Winning by a dominant 36-stroke margin, the team (which has no seniors) looks to possibly repeat next year.
Commissioner Samuel N. Graves, Jr., (District 1) said that Charles County is the place where eagles soar. "You've made those words come true by winning the state golf title," Graves noted.
The Commissioners presented each student and the coaches with a printed citation and a 350th Anniversary souvenir coin.
Commissioners Announce Nursing Scholarship Winners
The Charles County Commissioners are pleased to announce that scholarships totaling $3,000 have been awarded to three County residents for the 2009 Nursing/Allied Health Scholarship Program.
The awards were granted to deserving students studying Nursing and Radiology. At the completion of their coursework, they will be required to practice in their chosen field of study for at least two years in the County at either the Civista Medial Center, the Charles County Health Department, Charles County Public Schools, Hospice of Charles County, any of the Charles County Long Term Care facilities, Charles County Community social service agencies, home health care, or with a private health practitioner.
This year's recipients are Brandi Avery and Javonna Valentine, both of Waldorf, and Erica Wright of Hughesville.
Comfort Re-Elected as President of Md. County Administrators Association
Paul W. Comfort, Esq., Charles County Administrator, has been re-elected by his peers to an unprecedented fifth consecutive term as President of the Maryland Administrative Officers Association. This Association is an affiliate organization of the Maryland Association of Counties (MACo) and its members include Maryland's County Administrators, County Managers and Chief Administrative Officers.
Michael Sanderson, incoming Executive Director of MACo said, "Paul Comfort has been a great asset for the county community, as he brings great enthusiasm and practicality to his leadership role with the Maryland County Administrative Officers Association. We at MACo are very pleased to continue working with him and the County Administrators as we enter what are sure to be trying times. Having his experience and insight will be a real benefit to Maryland's counties."
Charles County Commissioner Gary V. Hodge stated, "I'm very proud that Paul has been recognized again by his professional colleagues across the State as a leader in county government. He is part of a new generation of rising young appointed local government executives in Maryland who I'm sure will be making a positive contribution to the lives of our citizens for many years to come."
Mr. Comfort said, "I am humbled that my peers have once again asked me to lead our state association. I will continue to work to keep our members educated on the key issues that affect local governments throughout the state."
Wayne Cooper, President of the Charles County Commissioners and a member of the Maryland Association of Counties Executive Committee asserted, "Just as Mr. Comfort has brought new leadership and improvements to the operations of Charles County government, so has he to Maryland's Association of County Administrative Officers. Mr. Comfort is a professional individual that is hard working, dedicated, task-oriented, and he gets the job done. We are proud of his accomplishments both here and statewide."