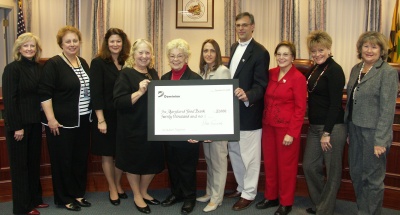 Left to right: Terry Shannon, Acting County Administrator for Calvert County; Maureen Hoffman, Director, Calvert County Department of Community Resources; Karen Lehman Cieplak, Director of Charles County Department of Community Services; Linda Kelley, Calvert County Commissioner; Barbara Stinnett, Calvert County Commissioner; Brenda DiCarlo, Manager of the Southern Maryland Food Bank; Mike Frederick, Director of LNG Operations for Dominion Cove Point; Susan Shaw, Calvert County Commissioner; Nancy Smith, Major Gifts Officer; and Paula Minsk, Chief Development Officer of the Maryland Food Bank. (Submitted photo)
LA PLATA, Md. (Dec. 22, 2008)—Hundreds of Southern Maryland families will not go hungry this holiday season, thanks to a donation of $20,000 from the Dominion Foundation to the Southern Maryland Food Bank. Dominion representatives presented the funds to Food Bank officials on Monday in Calvert County. Officials from Calvert and Charles counties were also on hand for the presentation.
The donation will allow the food bank to purchase over 160,000 pounds of food, according to Brenda DiCarlo, manager of the Hughesville-based operation.
"It's a tremendous shot in the arm for the food bank," said DiCarlo. "With the downturn in the economy, the needs of people have become even greater."
"Dominion has made someone's holiday," added Nancy Smith, major gifts officer for the food bank.
Travis K. Cutler, government affairs coordinator for Dominion Resources Services, Inc. (NYSE: D) said the contribution is part of a multi-state effort to assist area food banks in providing the proper nutrition to individuals and families in need.
The Dominion Foundation is the charitable arm of Dominion, a multi-billion dollar energy company based in Richmond, Va. Dominion owns and operates the Dominion Cove Point Liquefied Natural Gas (LNG) terminal in Calvert County.
The food bank serves as a source of supplies for local food pantries and soup kitchens, who sign up as members of the food bank. The bank does not provide food directly to citizens for their personal use.
Food Bank officials estimate that 10-20,000 people use their services every month.
Donations can be made to the Southern Maryland Food Bank by calling their main number at 301-274-0695 or 202-345-6671. More info about the food bank, including names and locations of local pantries and soup kitchens, is available at their website
http://smfb.somd.com/
.