Also Admits to Attempting to Kill Wife
By Guy Leonard, County Times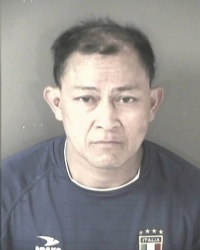 Koumanne Virasith, 40, pled guilty to attempted murder of his wife and the murder of her boyfriend. (April 10, 2008 Arrest photo)
HOLLYWOOD, Md. (Dec. 11, 2008)—A man who had shot his wife and her boyfriend, killing the man, earlier this year in a fit of jealous rage, according to county prosecutors, has pleaded guilty to first-degree murder and attempted second-degree murder in the St. Mary's County Circuit Court.
Koumanne Virasith, 40, disputed the facts of his case at a plea hearing scheduled Dec. 4, according to State's Attorney Richard Fritz who prosecuted the case.
Fritz said when he read a statement of facts Dec. 4 showing that on April 10, when the killing of Thomas John Saunders, 38, and the crippling of Melissa Virasith took place, the defendant left Liberty Street by car after initially shooting both victims and then turned around and shot Saunders once in the back of the head.
Virasith used a .38 caliber snub-nosed revolver in the commission of the killings, Fritz told The County Times.
Fritz said Virasith had driven to Saunders' home that night and got in a heated verbal argument with both Saunders and his estranged wife.
The argument escalated to the point where the defendant fired four shots that hit his wife twice, and Saunders once in the chest initially.
One of the shots missed, Fritz said, and struck a nearby car windshield.
Virasith denied returning to shoot Saunders in the back of the head at the Dec. 4 plea hearing, which led to another motions hearing the following day. There, Virasith admitted to pointing the gun at Saunders' head and pulling the trigger.
Melissa Virasith, who was shot twice by her estranged husband, remains paralyzed below the waist as a result of the attack, Fritz said.
"It is a sad tragic case," Fritz said of the shooting. "It certainly signals a greater responsibility to those victims of domestic violence.
"It shows a need for the system, me and all these other organizations included, to find better ways to reach out to those who are potential targets of domestic violence."
Court documents showed that Melissa Virasith had on several occasions applied for protective orders against her husband.
The estranged wife wrote in a domestic violence civil case logged back in 2003 that while they were living together her husband had allegedly struck her, causing her lip to bleed in the fall of 1999 and had shoved her while she was pregnant with the last of her three children that same year.
Her husband would also act out and smash the television set as well as punch and damage the walls of their home, she alleged.
That 2003 petition from protection was granted, but the second one, filed last year was denied by District Court Judge John D. Slade III because there was no basis in the law for relief, court documents stated.
Saunders' relatives cautioned him to be careful in his relationship with the estranged wife also, since he had allegedly threatened Saunders on several occasions prior to the shooting.
Koummane Virasith and his wife had three children together and the defendant was ordered to pay child support for them even while incarcerated, court documents show.
RELATED INFORMATION:
Ex-Husband Allegedly Shoots Wife, Another Man Dead, April 11, 2008
http://somd.com/news/headlines/2008/7483.shtml
Murder Suspect Ordered to Continue Paying Child Support from Jail, July 13, 2008
http://somd.com/news/headlines/2008/7934.shtml