By Guy Leonard, County Times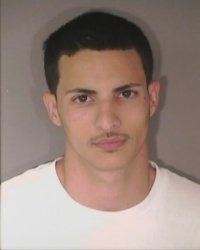 Stephen Joseph Brown-Santos was arrested on June 30, 2008 for the armed robbery and carjacking of Billy Gene Gurley. Gurley died a short time later. (June 2008 Arrest photo)
HOLLYWOOD, Md. (Dec. 11, 2008)—Prosecutors say a man accused of carjacking and robbing a 75-year-old victim with a heart condition who later died made a confession, but now wants to contest it at a motions hearing in county Circuit Court.
The hearing for the accused, Stephen Joseph Brown-Santos, could take place next week.
"He gave a confession to the police," said Public Defender John Getz. "But he does wish to litigate that statement."
Brown-Santos, 20, was initially charged with armed robbery and carjacking against Billy Gene Gurley, but the grand jury later indicted him on first-degree murder.
Brown-Santos is said by local police to have carjacked and robbed Gurley June 20 outside Dabbs Dental Care in Leonardtown using a handgun.
After the robbery, Gurley called for help from police, complained of chest pains and later died.
Charging documents state that Brown-Santos had agreed to an interview without a lawyer after anonymous witnesses to the crime had pointed to Brown-Santos as a likely suspect.
Brown admitted in charging documents to using the handgun to force Gurley back into his car at the dental care facility and drove him to the parking lot of a nearby Leonardtown shopping center where he allegedly took $37 and a class ring from Gurley.
Brown-Santos f led to his own car, police said, while Gurley drove back to the parking lot of the dental care facility and called for police.
Charging documents state that police executed a search warrant on Brown-Santos' apartment and found a loaded handgun they believed was used in the crime against Gurley.
Court papers went on to say the defendant's girlfriend returned the deceased victim's class ring.
State's Attorney Richard Fritz said in court there would be "much evidence to be produced that will involve medical testimony."
Gurley had a heart monitor on him at the time of the alleged crime, Fritz said.
Circuit Court Judge C. Clarke Raley said the case would be a "very complex murder case," because there was a question as to whether Brown-Santos' alleged actions actually caused the death of the victim.
Judge Raley also said that "it's fairly certain you'll have a collision of expert witnesses" in the case.
Both Getz and Fritz are expected to present expert witnesses for and against Brown-Santos.
Through the entire motions hearing process Dec. 8, Brown-Santos used a Spanish language interpreter to understand and relay responses to the court.
Fritz later said Brown-Santos' command of the English language was adequate.
"He speaks English well enough to attend any high school in Maryland and graduate," Fritz said.
Brown-Santos waived his right to have his case tried by Jan. 25 of next near, or the deadline of the 180-day period in which cases must be tried according to law, in an effort to gather defense witnesses.
Brown-Santos is still incarcerated at the St. Mary's County Adult Detention Center.
Gurley, who lived in Town Creek, had lived in the county since 1959 and worked at the U.S. Navy's Test Pilot School at the Patuxent River Naval Air Station.
Friends and family said he was a founding member of the Mattponi Rod and Gun Club on base and was an avid outdoorsman and deer hunter.
RELATED INFORMATION:
Police Make Two Arrests in St. Mary's Robberies, July 1, 2008
http://somd.com/news/headlines/2008/7906.shtml
Police Investigate Man's Death After Alleged Robbery, June 30, 2008
http://somd.com/news/headlines/2008/7896.shtml